Wiki Targeted (Entertainment)
Play Sound
Harry Potter: "Surreptitiousness!"
Edgar Stroulger's portrait: "Ah... Please step through, young sir..."
— Edgar Stroulger's portrait opening upon the correct password
Edgar Stroulger (1703 – 1798) was a wizard who invented the Sneakoscope, a Dark Detector that lights up, spins, and whistles if someone is doing something untrustworthy nearby. For this accomplishment, he was commemorated on a bronze Chocolate Frog Card.[2][1]
A portrait of Stroulger was placed on the sixth floor of Hogwarts Castle, guarding a secret passageway. His password was "Surreptitiousness" in 1993.[1]
Etymology
The name "Edgar" is derived from the Old English elements ead "rich", "blessed" and gar "spear". This was the name of a 10th-century English king, who is regarded as a saint. The name did not survive long after the Norman conquest, but it was revived in the 18th century, in part due to a character by this name in Sir Walter Scott's novel The Bride of Lammermoor (1819).
Appearances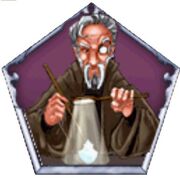 Notes and references