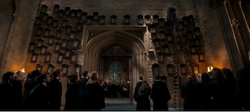 Educational Decrees were laws created by the Ministry of Magic to set or modify standards at Hogwarts School of Witchcraft and Wizardry.
History
During the 1995–1996 school year, the Ministry were no longer impressed by the standards at Hogwarts School of Witchcraft and Wizardry under the headship of Albus Dumbledore, because they thought he was lying about Voldemort's return.[1]
Spearheaded by Dolores Umbridge, they created new educational decrees to suppress and outlaw behaviour of which the Ministry did not approve, some of which would outright expel the students found to be in transgression of.[2] In truth, however, they were just an excuse to strip Dumbledore of his headship of the school and give it to Umbridge.[3] Minerva McGonagall was shown to strongly dislike them, as when Umbridge pulled out a new decree, she exclaimed "Not another one!" Educational decrees were even used to control the teachers and limited the help they were able to give to their students, including giving no advice on anything that was not connected to their subject.[4] When Harry created Dumbledore's Army, she eventually created Educational Decree Number 24. These educational decrees were abolished when Albus Dumbledore and Harry Potter proved Lord Voldemort's return.[5]
Known Educational Decrees
Behind the scenes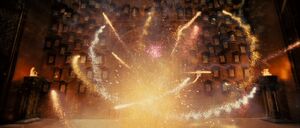 Appearances
Notes and references