Wiki Targeted (Entertainment)
Play Sound
"Is this all real? Or has this been happening inside my head?"

The topic of this article is of a real-life subject that has been mentioned "in-universe" in a canon source. The Harry Potter Wiki is written from the perspective that all information presented in canon is true (e.g., Hogwarts really existed), and, as such, details contained in this article may differ from real world facts.
"Eels' Eyes can be used in all sorts of potions."
— Description
Eels' eyes are the eyes of an eel.[1]
Usage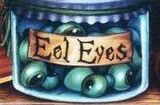 They were used in Potion-making. The Apothecary in Diagon Alley sold jars of eels' eyes for one Galleon each.[1]
According to a portrait of a medieval Healer at St Mungo's, one must stand naked in a barrel of eel's eyes at the full moon with a toad liver tied tightly about one's throat to cure Spattergroit; the legitimacy of this claim remains somewhat unconfirmed.[2]
Appearances
Notes and references