Wiki Targeted (Entertainment)
Play Sound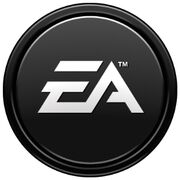 Electronic Arts (EA Games) is an international developer, marketer, publisher and distributor of video games. They were responsible for making the Harry Potter video games. The company was founded in 1982 by Trip Hawkins, and in collaboration with Warner Bros. and J. K. Rowling has produced all of the games based on the movies, including a Quidditch simulator game called Harry Potter: Quidditch World Cup and also co-published Creator: Harry Potter and the Chamber of Secrets.
History
In 2000, EA got from Time Warner the rights to produce games based on the Harry Potter books and films.[1]
In 2001, the Philosopher's Stone game was released for the PlayStation, Windows (a port for Mac came the following year), Game Boy Advance and Game Boy Color. A different version for the PlayStation 2, GameCube and Xbox platforms was released in 2003.
In 2002, the Chamber of Secrets game was released. Eurocom developed the PlayStation 2, Xbox, GameCube and Game Boy Advance versions, while Amaze Entertainment released a game for the PC, Mac and Game Boy Color systems, and Argonaut made a PS1 version.
The first non-book based Harry Potter game was released in 2003. Harry Potter: Quidditch World Cup was a Quidditch simulator developed by EA's internal studios for the GameCube, PS2 and Xbox platforms, as well as the PC. French developer Magic Pockets developed a GBA version.
In 2004, the game based on the third book and movie, Prisoner of Azkaban, was released. EA's internal studios made the PS2, GameCube and Xbox versions, while Amaze ported the game to PC and made a GBA game.
In 2005 came a game based on the fourth book and movie, Goblet of Fire. EA's United Kingdom studio developed the PC, PS2, GameCube and Xbox versions, and also a version for the PlayStation Portable. Magic Pockets produced a GBA and Nintendo DS version.
2007's Order of the Phoenix, again by EA UK, was the first Harry Potter game for the Xbox 360, PlayStation 3 and Wii platforms. EA UK also developed PS2, GBA and PSP versions. Visual Impact made the DS version.
Half-Blood Prince was delayed so as to have its release along with the movie, in 2009.[2] It was developed by the British studio EA Bright Light (the new name of EA UK), and released for the PS2, PS2, PC, Xbox 360, Wii, DS and PSP.
EA Bright Light was also responsible for the last games developed by EA, Harry Potter and the Deathly Hallows: Part 1 and Harry Potter and the Deathly Hallows: Part 2 video games, released concurrently with the movies in 2010 and 2011. Both had versions for PC, DS, Wii, PS3, and Xbox 360.
External links
Notes and references