Jurassic World: Dominion Dominates Fandom Wikis - The Loop
Play Sound
"Well, I think we should put it back in order for them, don't you?"

This entry needs to be cleaned up to conform to a higher standard of quality.
See How to Edit for help, or this entry's Talk Page.
Emma Charlotte Duerre Watson (b. 15 April, 1990 in Paris, France)[2] is a French-born British actress and model whose most notable role is that of Hermione Granger in the Harry Potter film series.
Career
Emma knew she wanted to act from the age of six.[2] Prior to being cast in the Harry Potter film series, Watson had only acted in school plays. At school, she took the lead role in several plays, including Arthur: The Young Years and The Happy Prince. Along with plays, Emma participated in many other school productions, including the Daisy Pratt Poetry Competition, in which she won first place for her year at age seven.
At the age of eleven, Watson made her professional acting debut in Harry Potter and the Philosopher's Stone playing the vulnerable know-it-all Hermione Granger. In 2002, she starred in the Potter sequel, Harry Potter and the Chamber of Secrets. In 2004 and 2005, she again played the brainy Hermione Granger in Harry Potter and the Prisoner of Azkaban and Harry Potter and the Goblet of Fire. In 2007, she returned to the Potter franchise a fifth time in Harry Potter and the Order of the Phoenix, reprising her role as Hermione Granger.
Following the release of Order of the Phoenix, Watson made her first major forays beyond the Potter franchise, playing Pauline Fossil in the television film Ballet Shoes, and voicing Princess Pea in the animated film The Tale of Despereaux. She was originally not going to return to the role of Hermione for Harry Potter and the Half-Blood Prince to finish her schooling, but soon after fulfilled her role. The film was released in 2009 after originally being scheduled for a Christmas 2008 release. She then went on to perform the character for the final two Harry Potter films, filmed in 2008-2009 and released in 2010 and 2011.
In 2007, Emma was ranked 22nd in Portrait Magazine's "Top 30 Under 30 2007". She was the only one from her cast mates.
In 2008, Emma was nominated and awarded fourth place in Portrait Magazine's Top 30 Under 30 2008 list making this her 2nd time.[3] Her Harry Potter co-star Bonnie Wright, who plays Ginny Weasley in the films, was also nominated and awarded fifth place[4]. She and Wright were the only ones of the cast of Harry Potter to be nominated in the Top 30 Under 30 2008 list by Portrait Magazine.
Watson's post-Potter acting career has been the subject of conflicting media reports, with some saying she plans to quit acting to concentrate on university, and others stating she plans to continue acting.[2] In July 2009 it was announced that she will be attending Brown University, in Providence, Rhode Island[3] Her subsequent enrollment in classes in September 2009 was met with considerable paparazzi interest.
In June 2009 Emma became the new face of Burberry. As of Autumn 2010, Emma is no longer the face of Burberry, but is still with the company.
On September 17, 2009, Emma announced on her official website and as reported in the Guardian that she will be collaborating on a fashion line with People Tree, the sustainable and fair trade fashion brand. Emma served as a creative advisor on the spring/summer line which was launched in February 2010. Emma did three lines for People Tree.[5][6]
In December 2009, Watson was nominated and voted in eighth place in Portrait Magazine, Top 30 Under 30 2009 List.[7] Emma's fellow Harry Potter's co-stars was also nominated Bonnie Wright who plays Ginny Weasley was second place, Evanna Lynch who play Luna Lovegood was third place, Rupert Grint who plays Ron Weasley was fifth place, Tom Felton who plays Draco Malfoy was fourteenth place, and Daniel Radcliffe who plays Harry Potter was eighteenth place in Portrait Magazine, Top 30 Under 30 2009 List.
In March 2010, Emma performed in Anton Chekov's Three Sisters. The play was a student-directed play at Brown University, where she was a freshman at the time.[8]
In June 2010, Emma was featured in the music video of the song "Say You Don't Want It" by One Night Only.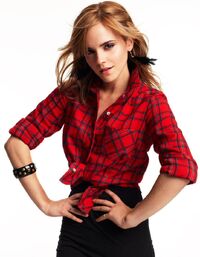 In July 2010 it was confirmed that Emma has a official twitter account.[9] In August 2010 Emma confirmed that she had got a hair cut, photos were also released.
In February 2011 Emma became the face of Lancôme. She is still the face of Lancôme today.
In March 2011 Emma's five piece organic clothing line with Alberta Ferretti debuted.
On November 4, 2011, Emma appeared as Lucy in My Week with Marilyn; alongside her Harry Potter co-stars Kenneth Branagh (Gilderoy Lockhart), Toby Jones (Dobby), Zoë Wanamaker (Rolanda Hooch), and Geraldine Somerville (Lily Potter I).
In 2012, Emma starred in the film The Perks of Being a Wallflower. The film is based off the novel by Stephen Chbosky. Emma played an American high-schooler named Sam.
In June 2013, The Bling Ring hit theatres. It was based on actual events where a group of fame-obsessed teenagers use the internet to track celebrities' whereabouts so they can rob their homes. Emma played a bratty American teenager named Nicki. The Bling Ring was directed by Sofia Coppola.
Emma also co-stars with Russell Crowe and Jennifer Connelly in Noah, about the Biblical prophet, which was released in 2014.
In January 2015, it was announced that Emma Watson had been cast in the role of Belle in The Walt Disney Company's planned live-action adaptation of "the tale as old as time," Beauty and the Beast. The film was released on 17 March 2017.[10][11] In the film, Emma plays alongside Emma Thompson (Sybill Trelawney), who both voices and plays the role of Mrs Potts.
Personal life
Emma Charlotte Duerre Watson was born on April 15th, 1990 at 6:00 P.M. in Le Marais[12] Paris, France. Her parents are Jacqueline Luesby and Chris Watson, and both are lawyers.[13][14] They lived in Maisons-Laffitte, Paris until they divorced.[12]
When she was five years old, her parents divorced and she moved to Oxfordshire, England with her mother and younger brother. Both her parents have remarried, and she has three half-siblings and two step-brothers.[2]
Emma attended the Dragon School, an independent preparatory school until June 2003. She then transferred to Headington School, an independent girls' school.
An avid sports player, Watson enjoys playing hockey, tennis, and rounders. She is also said to be a gifted singer.[2]
Favourites
Behind the scenes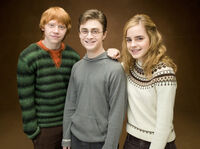 Watson shares a birthday (April 15) and her own name with Harry Potter co-star Emma Thompson (who portrays Sybill Trelawney - her much-disliked Divination Professor.)
Watson was asked in an interview promoting Harry Potter and the Philosopher's Stone how she would feel kissing her co-stars Rupert or Dan. She jokingly replied 'no chance, not written in my contract'. Ironically, she eventually kissed both of them.
Emma broke her wrist while filming Harry Potter and the Chamber of Secrets.
Emma also used to have a pet hamster named Millie who Emma enjoyed taking to the Harry Potter set often, she recalled that Millie would squirm around in her lap while getting her make up done. Shortly after production began for Chamber of Secrets, Millie, sadly passed away. Emma was left devastated and word of Millie's passing quickly ran through the studio. Then the set department made a special hamster-sized coffin for Millie and Emma said "I don't think a hamster has ever had a better send-off".
On the United States show "David Letterman's Late Show", Watson revealed that she will be going to college in the United States and that she will work on Liberal Arts degree focusing on Humanities.
On "David Letterman's Late Show", Watson revealed that for secondary school, she went to Headington girls school in Oxford. She also revealed that her grades were mainly in the A category.
On "David Letterman's Late Show", Watson also revealed that she passed her automatic driving test in 2008 and she is driving a Toyota Prius.
Controversy arose shortly before the release of the Harry Potter and the Order of the Phoenix film when it was discovered that Watson's breast size had been digitally enhanced on a poster advertising the film's IMAX release. This image gave Melissa Anelli, webmistress of fansite The Leaky Cauldron, "the full heebie jeebies," since Watson was playing a fifteen-year-old,[21] and was herself under eighteen.
At the age of thirteen, Watson was placed tenth in "The Hottest Female Stars", in February 2004.[2]
She became the youngest person ever to appear on the front cover of Teen Vogue magazine, at the age of fifteen.
She achieved eight A*and two A passes in her GCSEs (English exams pupils sit in their last compulsory year of education). She jokingly compared this to her portrayal of Hermione Granger, a self-conscious know-it-all.
Watson passed her driving test on her first attempt, on January 28, 2008.
Watson is the youngest of the Harry Potter, Ron Weasley and Hermione Granger actors. In the books, however, Hermione is the oldest of the three; her birthday is in September while Ron and Harry's are the following year in March and July, respectively.
Watson owns two cats, by the names of Domino and Bubbles.
She doesn't drink tea or coffee. She says she doesn't like the taste.
Emma Watson is a huge fan of Nutella.
Emma Watson never dated George Craig, the lead singer of the band One Night Only, contrary to rumours. She starred in one of their videos, Say You Don't Want It. He also was a model for Burberry alongside Emma Watson and her brother Alex.[22]
Emma Watson used to be dating 27-year-old financier Jay Barrymore. They later had a row about Emma going to Brown University in the United States which resulted in them breaking up.[23]
Like Hermione, Watson was born to two parents of the same occupation; Hermione's are both dentists, and Emma's are both lawyers.
In an interview, Watson said that she hates it so much when people call her "Emily" instead of "Emma" and is frequently confused with Oscar-nominated British actress Emily Watson.
Rumours claimed that Watson nearly did not return for Half-Blood Prince and Deathly Hallows filming, but ultimately decided to because she "couldn't bear seeing anyone else playing Hermione". However, she has on her official website denied this and explained that she was only trying to make it clear to WarnerBros. that she needed them to cooperate with her education for filming. She later attended Brown University in Rhode Island.
Even though Hermione doesn't have freckles in the books, Emma Watson has freckles around her nose which are usually hidden by makeup in the films.
At least one actor from the Harry Potter films has appeared alongside Emma Watson in almost every non-Harry Potter film she has appeared in. In The Tale of Despereaux, Robbie Coltrane (Rubeus Hagrid) voices Gregory and Ciarán Hinds (Aberforth Dumbledore) voices Botticelli, in Ballet Shoes, Richard Griffiths (Vernon Dursley) plays Great Uncle Matthew, in My Week With Marilyn, Kenneth Branagh (Gilderoy Lockhart) plays Sir Laurence Olivier, Zoe Wanamaker (Rolanda Hooch) plays Paula Strasberg, Toby Jones (Dobby) plays Arthur Jacobs, Geraldine Somerville (Lily Evans) plays Lady Jane Clark, in The Perks of Being a Wallflower, Ezra Miller (Credence Barebone) plays Patrick, and in Beauty and the Beast, Emma Thompson (Sybill Trelawney) plays Mrs Potts.
Emma Watson has a younger brother, Alex who accompanied her to many premieres. He is also one of the models of Burberry.
In an interview, Watson admitted that she had a crush on Harry Potter co-star Tom Felton saying: "I have to confess, I had a bit of a crush on Tom Felton in the earlier films, but never on Daniel or Rupert, they are just good friends.". Rupert, on the other hand, admitted that both he and Dan had a crush on Emma saying: "Emma's a pretty girl. Have Daniel or I ever hit on Emma? Well, she's quite popular with the cast. As for who has the worst crush on her - me or Radcliffe - I'd rather not say."[24]
Though Watson's natural hair colour is brown, she dyed her hair blonde for Ballet Shoes and to avoid being typecast as "the girl from Harry Potter".
Whilst Emma's character does not like Professor Trelawney, Emma is a great fan of Emma Thompson.
In Robert Galbraith's novel The Silkworm, Emma is briefly mentioned as being on the cover of the December 2010 edition of Vogue, which the real Emma Watson had also been.[25]
Emma's favourite line of which she said in the Harry Potter films was "I'm going to bed, before either of you come up with another clever idea to get us killed, or worse, expelled." She admitted she liked saying this line because it seemed like the wittiest thing to say at the young age of eleven or twelve.
At the age of just 10, Emma Watson said that she would keep the money she earnt in a bank until she was 21.
Emma Watson was nicknamed 'giggles' on the set of Harry Potter and the Deathly Hallows: Part 1, for laughing so much.[26]
Awards and honours
Saturn Awards

Best Performance by a Younger Actor (Philosopher's Stone) - Nominated
Best Supporting Actress (Deathly Hallows Part 2) - Nominated

Young Artist Awards - Best Performance in a Feature Film - Leading Young Actress (Philosopher's Stone) - Won
Phoenix Film Critics Society Awards

Best Youth Performance (Philosopher's Stone) - Nominated
Best Acting Ensemble (Chamber of Secrets) - Shared with Kenneth Branagh, John Cleese, Robbie Coltrane, Warwick Davis, Richard Griffiths, Rupert Grint, Richard Harris, Jason Isaacs, Daniel Radcliffe, Alan Rickman, Fiona Shaw, Maggie Smith, Julie Walters - Won
Best Supporting Actress (Perks of Being a Wallflower) - Nominated

Kids Awards 2002 -Favourite Movie (Philosopher's Stone) - Shared with Daniel Radcliffe, Rupert Grint - Won
Disney Channel Kids Awards 2003 - Best Movie (Chamber of Secrets) Shared with Tom Felton - Won
Critic's Choice Awards

Best Young Actress (Prisoner of Azkaban) - Nominated
Best Young Actress (Goblet of Fire) - Nominated

Blimp Awards - Favourite Movie Star (Goblet of Fire) - Nominated
MTV Movie Awards

Best On-Screen Team (Goblet of Fire) - Shared with Daniel Radcliffe, Rupert Grint - Nominated
Best Female Performance (Half-Blood Prince) - Nominated
Best Kiss (Deathly Hallows Part 1) - Shared with Daniel Radcilffe - Nominated
Best Female Performance (Deathly Hallows Part 1) - Nominated
Best Fight (Deathly Hallows Part 1) - Shared with Daniel Radcliffe, Rod Hunt, Rupert Grint, Arben Bajraktaraj - Nominated
Best Female Performance (Deathly Hallows Part 2) - Nominated
Best Kiss (Deathly Hallows Part 2) - Shared with Rupert Grint - Nominated
Best Cast (Deathly Hallows Part 2) - Shared with Daniel Radcliffe, Rupert Grint, Tom Felton - Won
TrailBlazer award (Perks of Being a Wallflower) - Won

National Movie Awards - Female Performance (Order of the Phoenix) - Won
Empire Awards

Best Actress (Order of the Phoenix) - Nominated
Best Actress (Deathly Hallows Part 1) - Nominated
Portrait Magazine, Top 30 Under 30

2008 List - Nominated and Awarded Fourth Place
2009 List - Nominated and Voted in Eighth Place

People's Choice Awards

Favourite On-Screen Team (Half-Blood Prince) - Shared with Daniel Radcliffe, Rupert Grint - Nominated
Favourite Movie Star Under 25 - Nominated (2011)
Favourite Movie Star Under 25 - Nominated (2012)
Favourite Drama Movie Actress (Perks of Being a Wallflower) - Won

Teen Choice Awards

Choice Movie Actress: Fantasy (Half-Blood Prince) - Nominated
Choice Movie Actress: Sci-Fi/Fantasy (Deathly Hallows Part 1) - Won
Choice Movie Liplock (Deathly Hallows Part 1) - Shared with Daniel Radcliffe - Won
Choice Summer Movie Star: Female (Deathly Hallows Part 2) - Won

Capri Ensemble Cast Award (My Week with Marilyn) - Shared with Dominic Cooper, Eddie Redmayne, Judi Dench, Julia Ormond, Zoë Wanamaker, Dougray Scott, Kenneth Branagh, Michelle Williams - Won
Nickelodeon Kids Choice Awards 2012 - Favourite Female Actress (Deathly Hallows Part 2) - Nominated
Boston Society of Film Critics Award - Best Supporting Actress (Perks of Being a Wallflower) - Nominated
San Diego Film Critics Society Award

Best Ensemble Performance (Perks of Being a Walflower) - Won
Best Supporting Actress (Perks of Being a Wallflower) - Won

St. Louis Gateway Film Critics Association - Best Supporting Actress (Perks of Being a Wallflower) - Nominated
Nickelodeon UK Kids' Choice Awards - Favourite UK Actress (Perks of Being a Wallflower) - Won
Filmography
External links
Notes and references
See also