Warning!

At least some content in this article is derived from information featured in Harry Potter: Hogwarts Mystery. Spoilers will be present within the article.
The Engorgement Charm[2] (Engorgio[1]), also known as Growing Charm,[3] is a charm that causes the target to swell immensely. It is the counter-charm for the Shrinking Charm, causing shrunken objects to return to their original size.[1]
If the caster attempts to engorge the target beyond a certain point it will violently explode. Although this spell is safe to use on animals, its use is not recommended until the counter-charm has been perfected.[1]
A variation of this spell is Engorgio Skullus, which makes the head of a person bigger.[4]
History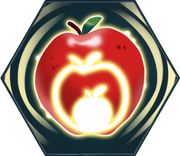 Miranda Goshawk included this charm in The Standard Book of Spells, Grade 2, the third spell in the book.[2] She also wrote about it in Book of Spells alongside the Shrinking Charm, which can be used to counteract this charm.[1]
This spell was covered in second year charm class during the 1985–1986 school year.[3]
Ron Weasley suspected that Rubeus Hagrid might have gotten in the way of a bad Engorgement Charm when he was young, not realising that he was half-giant.[5]
Effect
It appears as a circle of icy blue light emanating from the tip of the wand, much like a torch.[1] Anything within this circle will grow exponentially, bouncing and shivering.[1]
Known uses
Known practitioners
Etymology
The word engorge means "to fill to excess".
Behind the scenes
Given that every potion's brewing process can only be completed by casting a spell, and that it can vary for each potion, the most likely spell used to complete the Swelling Solution is the Engorgement Charm.
In Harry Potter and the Deathly Hallows: Part 1, instead of testing his newly gained Blackthorn wand on a spider, Harry used the Engorgement Charm on a candleflame, which caused it to burst into an uncontrollable column of flame before he swiftly used the countercharm.
Appearances
Notes and references
*Disclosure: Some of the links above are affiliate links, meaning, at no additional cost to you, Fandom will earn a commission if you click through and make a purchase. Community content is available under
CC-BY-SA
unless otherwise noted.