Spider-Man: No Way Home Trailer Dropped - The Loop
Play Sound
""Episkey," said Tonks. Harry's nose felt very hot, then very cold. He raised a hand and felt it gingerly. It seemed to be mended."
— Nymphadora Tonks fixes Harry Potter's broken nose
Episkey[1] was the incantation of a healing charm that healed relatively minor injuries such as broken noses,[1] toes,[4] and split lips.[5] The spell could create sudden temperature changes in the body parts being healed.[1]
It could also be used to relieve pain; as Jacob's sibling was successfully able to remove Tulip Karasu's headache after she hit her head on a branch while sleepwalking into the Forbidden Forest after she was inflicted with a curse from the Forest Vault.[6] It could also reverse the effects of the Full Body-Bind Curse.[7]
Known uses
"I can fix that, "Episkey"."
— Harry Potter uses this spell to fix Demelza Robins' broken lip
Known practitioners
Etymology
The word comes from the Greek "episkevi" ("επισκευή"), which means "repair".
Behind the scenes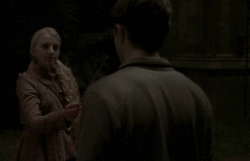 Appearances
Notes and references