Voldemort Vs. Grindlewald: 'Fantastic Beasts' Cast Reveals Who's Worse
Play Sound
"Who will change the future?"
— Official tagline
Fantastic Beasts: The Crimes of Grindelwald, or just The Crimes of Grindelwald, is a direct sequel to Fantastic Beasts and Where to Find Them, and the second instalment of the series of films based on Fantastic Beasts and Where to Find Them, one of the companion books to J. K. Rowling's Harry Potter series, overall, being the tenth film set in the wizarding world. The film is directed by David Yates, with a screenplay by J. K. Rowling. Returning stars Eddie Redmayne, Katherine Waterston, Dan Fogler, Alison Sudol, Ezra Miller, Carmen Ejogo, Kevin Guthrie, and Johnny Depp, with Zoë Kravitz, Callum Turner, Claudia Kim, William Nadylam, and Jude Law joining the cast.
The plot follows Newton Scamander and Albus Dumbledore as they attempt to take down Gellert Grindelwald, while facing new threats in a more divided wizarding world. The story takes place in New York, London, and Paris starting around 19 March,[3] 1927.[4] Filming began on 3 July, 2017. It was released in most countries on 16 November, 2018, the same day the screenplay was published[5] although it was technically released days earlier in certain countries such as France and Argentina.
Synopsis
Grindelwald has made a dramatic escape from MACUSA custody. The villainous Grindelwald has been busy gathering more followers to his cause – elevating wizards above all non-magical beings. The only one who might be able to stop him is the wizard he once called his dearest friend, Albus Dumbledore. But Dumbledore will need help from the wizard who had thwarted Grindelwald once before, his former student Newt Scamander. Newt will again be joined by Queenie and Tina Goldstein in the next film, as well as his No-Maj friend, Jacob Kowalski. However, the mission against Grindelwald will 'test their loyalties' as the wizarding world becomes more divided and dangerous.[6]
Plot
In 1927, the powerful Dark wizard Gellert Grindelwald is being held prisoner by the Magical Congress of the United States of America (MACUSA). When departing New York for transfer back to London, he is freed by follower and former MACUSA employee, Abernathy. Grindelwald dispatches the guards and escapes.
Three months later, Newt Scamander is appealing to the British Ministry of Magic to restore his right to travel, after losing it during his visit to New York City. He meets with Leta Lestrange, an old friend from Hogwarts School of Witchcraft and Wizardry, who is engaged to his brother Theseus. During his appeal, Newt is offered his travel rights returned if he agrees to work for the Ministry of Magic, alongside his brother, in locating the Obscurial Credence Barebone, who has resurfaced in Paris; Credence is believed by many to be the last survivor of a long pure-blood line of wizards. Newt rejects the offer, and the Auror Grimmson is dispatched in his place. After leaving the Ministry, Newt is summoned to meet with Dumbledore, who also asks him to travel to Paris to find Credence.
Newt returns home to find American friends Queenie Goldstein and Jacob Kowalski, who have followed Queenie's sister Tina to Europe. After a fight concerning the ban on marriage between wizards and Muggles, Newt realises that Jacob has been put under a love spell. After another argument, he lifts the spell. An angered Queenie leaves alone to find Tina. Newt and Jacob follow both to Paris.
In Paris, Tina attends a freak show at the Circus Arcanus, searching for Credence. Credence and circus attraction Nagini escape during the show, releasing many of the animals. Credence and Nagini, searching for Credence's birth mother, find the nurse who put him up for adoption, but Grimmson arrives and kills her under Grindelwald's orders and escapes Credence's Obscurus. Meanwhile, Tina meets Yusuf, yet another interested party looking for Credence. Newt and Jacob follow Yusuf to Tina, and Yusuf explains that he has sworn to kill Credence, believed to be his half-brother and a member of the Lestrange family.
Newt and Tina infiltrate the French Ministry of Magic for documents to confirm Credence's identity and are discovered by Leta and Theseus. Their search leads from the Ministry to the Lestrange family tomb, where Yusuf and Leta explain their relation and Leta reveals her brother died as an infant, and thus cannot be Credence. The trail seems to have been fabricated to lead Credence to the tomb, where Grindelwald is holding a rally for his followers, with Queenie in attendance and Jacob in search of her.
At the rally, Grindelwald preaches "freedom" for wizards from the rules that require them to remain hidden from Muggles, using future images of World War II to call for the supremacy of wizards. Led by Theseus, Aurors surround the rally, and Grindelwald turns his followers against them, sending them to spread his message across Europe. Grindelwald creates a circle of blue flame to divide followers from enemies, and the flames incinerate the majority of the Aurors when the latter's attempt to flee. Credence and Queenie cross to join him despite protests from Nagini and Jacob. Leta appears to swear allegiance, but attacks Grindelwald to allow Tina, Newt, Jacob, Yusuf, Nagini, and Theseus to escape, sacrificing herself. As Grindelwald escapes, the remaining heroes unite with Nicolas Flamel to defeat the expanding blue flame and save Paris.
Newt travels to Hogwarts to meet with Dumbledore and presents a vial he has taken from Grindelwald, surmising that its blood pact was the reason Dumbledore could not face Grindelwald himself. At his base Nurmengard in Austria, Grindelwald presents Credence with a wand of his own, finally tells Credence his identity: he is Aurelius Dumbledore. A baby bird Credence had been caring for is revealed to be a phoenix, a bird associated with the Dumbledore family. Credence then demonstrates his newfound power as a wizard by using his new wand to blast apart a mountainside.
Cast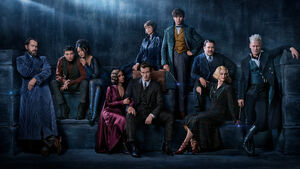 (In order of appearance)
Uncredited
Beasts
List of deaths
Production
Development
Fantastic Beasts: The Crimes of Grindelwald was announced in October 2014 by Warner Bros. At the time, the film was unnamed and the second part of planned trilogy of films based on Fantastic Beasts and Where to Find Them. It was scheduled for release on 16 November, 2018, two years after the release of the first film, Fantastic Beasts and Where to Find Them.
In the spring of 2016, David Yates first read the script, a full year and two months before they started shooting the film. David stated in the screenplay that, "The script felt layered, emotional, and that most precious of things: itself". In July of that year, David, director of Fantastic Beasts and Where to Find Them, revealed to the public that J. K. Rowling had written the screenplay for the second film. In an interview with Entertainment Weekly, Yates said "we've seen the script for Part 2, for the second film, which takes the story in a whole new direction – as you should, you don't want to repeat yourself. The second film introduces new characters as she builds this part of the Harry Potter universe further. It's a very interesting development from where we start out. The work is pouring out of her."
In October 2016, the proposed trilogy of Fantastic Beasts films was expanded to five films, including the news that Eddie Redmayne would return in all of the films as lead character Newton Scamander. Yates was also contracted to direct the sequel, with Rowling, David Heyman, Steve Kloves and Lionel Wigram serving as producers. Yates later revealed that he was on-board to direct all the films in the Fantastic Beasts series.
Pre-production
After a cameo as Leta Lestrange in the first film, Zoë Kravitz returned for the sequel with a larger role. It was revealed on 1 November, 2016, that Johnny Depp had been cast in the film in an unspecified role that was later revealed to be Gellert Grindelwald. Depp's casting in the film caused some fans to criticise his involvement due to previous allegations of domestic violence. J. K. Rowling commented on the issue, stating that "the filmmakers and I are not only comfortable sticking with our original casting, but genuinely happy to have Johnny playing a major character in the films." She did not consider recasting the role since Depp and with his ex-wife, actress Amber Heard, hoped that the settlement of their dispute would enable both of them to continue working and move on from the controversy.
David Yates revealed that Albus Dumbledore would be a character in the film. However, Michael Gambon would not be returning to the role, and a younger actor would play the character instead. In the same interview, he stated the film would be set in the United Kingdom and Paris. Several actors were considered from the role of the younger Dumbledore, including Christian Bale, Benedict Cumberbatch, and Mark Strong. Jarred Harris, son of Richard Harris who played Dumbledore in the first two Harry Potter films was also in the running. Eventually, Jude Law was announced to be playing Dumbledore in April 2017.
Ezra Miller was reported as preparing to film for the sequel, confirming his return as Credence Barebone. Callum Turner was added to the cast in the role as Newton Scamander's older brother, Theseus Scamander. At the start of principal photography on 3 July, 2017, additional cast members were announced, including Claudia Kim, William Nadylam, Ingvar Eggert Sigurðsson, Ólafur Darri Ólafsson, and Kevin Guthrie. A plot synopsis was also released.
Filming
Filming began on 3 July 2017 at Leavesden Studios. On 22 September 2017, David Sakurai was cast to play Krall, one of the ambitious and sulky henchman of Grindelwald.
Jude Law was reported to have finished his participation in the film by September 2017. On 5 October 2017, several other additions to the cast were announced, including Brontis Jodorowsky as Nicolas Flamel and Jessica Williams in an undisclosed role, which has since been revealed to be Eulalie Hicks. Filming wrapped on 20 December 2017.
Music
Release
Fantastic Beasts: The Crimes of Grindelwald was released by Warner Bros. on 16 November 2018. The film was released in IMAX, IMAX 3D and 2D formats.
Marketing
The screenplay for Fantastic Beasts: The Crimes of Grindelwald was released in book form on the same day the film was released, 16 November 2018.
Reception
The film has generated a generally mixed response from film critics. On the review aggregator Rotten Tomatoes, the film holds an approval rating of 37% based on 289 reviews, with an average rating of 5.3/10, while reception is higher from those the site considers "top critics," giving the film an average of 46% with 35 reviews and an average of 5.72/10. The website's critical consensus reads, "Fantastic Beasts: The Crimes of Grindelwald has glimmers of the magic familiar to Harry Potter fans, but the story's spell isn't as strong as earlier installments". On Metacritic, the film has a weighted average score of 52 out of 100, based on 48 critics, indicating "mixed or average reviews". It is the lowest-rated Wizarding World film on both websites.
Andrew Barker of Variety called the film a "cluttered expansion of the Harry Potter franchise" and wrote, "The film throws plenty of plot twists, loud noises, and multi-hued magical nebulae at us, but rarely is there much tension, or sense of adventure, or any real longing, just the feeling of watching one chess piece after another being moved into position." Writing for The Guardian, Peter Bradshaw gave the film 3/5 stars, praising Law and Depp's performances, but criticising the film's excessive plotting, and saying, "This Fantastic Beasts film is as watchable and entertaining as expected... but some of the wonder, novelty and sheer narrative rush of the first film has been mislaid in favour of a more diffuse plot focus, spread out among a bigger ensemble cast." Sarah Murphy of Exclaim found the film politically relevant, writing, "With the two worlds on the precipice of war, Grindelwald is depicted as a power-hungry populist in an extremely politically divisive time. It's too close to real life to not be terrifying."
Behind the scenes
The set-production name for this film was "Voltaire".[21]
The film features several characters first mentioned in the Harry Potter series, such as Albus Dumbledore, and Gellert Grindelwald. It also marks the first time that Nicolas Flamel is shown in a film, after being named on several occasions in the Philosopher's Stone film, exciting many fans of the Wizarding World franchise.[22][23]
Stuart Craig originally said that Fantastic Beasts: The Crimes of Grindelwald would take place in Paris, 1926. J. K. Rowling corrected this on Twitter after it was reported by Snitchseeker.[24]
On 22 August 2017, it was reported that Hogwarts might appear in the film, as filming took place at Lacock Abbey, a location used on the Harry Potter films.[25] Promotional images have since shown Albus Dumbledore in the Defence Against the Dark Arts classroom set.
The Hogwarts robes appear to have undergone a slight redesign in this film compared to the original film series, possibly reflecting the different time frame that the series is set in.
The Great Hall was unavailable for Fantastic Beasts' production since it is part of the studio tour. They had to recreate the whole set for the Great Hall scene with Leta Lestrange.[26]
There is a deleted scene in which after Credence Barebone was destroyed at the hands of the MACUSA in Fantastic Beasts and Where to Find Them (film), he travels slowly back to the Church.[27]
In 2017 during the production of this film, Ariana Dumbledore and Kendra Dumbledore were cast, and shot scenes for the film, but were ultimately cut.[28]
Inconsistencies
There are several inconsistencies in this film that do not reflect some of the established lore in the books. These are:
Videos
Gallery
Posters and other promotional materials
Stills
Notes and references