Fantastic Beasts and Where to Find Them Trailer
Play Sound
"Explore a new era of J.K. Rowling's wizarding world."
— Offical tagline
Fantastic Beasts and Where to Find Them (or simply Fantastic Beasts) is the first prequel of a series of films based on Fantastic Beasts and Where to Find Them, one of the companion books to J. K. Rowling's Harry Potter series.[3] It premiered on 18 November 2016.[4] The script of the first film was released in book form on the following day.[5]
The film was Rowling's screen writing debut.[6] David Heyman, who produced the Harry Potter films, returned as producer for Fantastic Beasts.[2]
The film is set in New York in 1926, sixty-five years before the Harry Potter series, and features Newton Scamander as a main character.[7] Fantastic Beasts and Where to Find Them tells us that Scamander had been travelling the world in research of magical creatures since 1918, culminating with the publication of his masterpiece in 1927.
Warner Bros had approached Rowling about using the book for a film, from which she pitched "an idea that she couldn't dislodge".[3] Upon returning to Harry Potter for the first time since 2007, Rowling commented: "I always said that I would only revisit the wizarding world if I had an idea that I was really excited about and this is it."[3] She stated that the idea of seeing Scamander "realised by another author was difficult," hence her decision to be the film's screenwriter.
Production for the film began at Leavesden on 17 August 2015.[8]
Synopsis
Part of the synopsis for the film was first revealed on 6 October 2014, when J. K. Rowling posted the cryptic message "Cry, foe! Run amok! Fa awry! My wand won't tolerate this nonsense." on her official Twitter account.[9] She confirmed the following day that this message was a riddle, and the solution, while not part of the script, was the first sentence of a synopsis of Newt Scamander's story.[10] The anagram was solved later that day, with Rowling confirming the solution of "Newt Scamander only meant to stay in New York for a few hours."[11]
The film's first official synopsis was released on 11 December 2015:[7]
| | | |
| --- | --- | --- |
| " | "Fantastic Beasts and Where to Find Them" opens in 1926 as Newt Scamander has just completed a global excursion to find and document an extraordinary array of magical creatures. Arriving in New York for a brief stopover, he might have come and gone without incident… were it not for a No-Maj (American for Muggle) named Jacob, a misplaced magical case, and the escape of some of Newt's fantastic beasts, which could spell trouble for both the wizarding and No-Maj worlds. | " |

The plot revolves around Newt Scamander, who has made a brief stop in New York in December[12] 1926, shortly after completing his travels around the world to research for his Magizoology book, Fantastic Beasts and Where to Find Them. What was meant to be a short interlude is prolonged when a No-Maj called Jacob Kowalski inadvertently disrupts Newt's magically-expanded suitcase, releasing a number of dangerous magical creatures into the city and threatening to worsen even further the state of magical and non-magical relations in the United States (which were already tense due to the presence of a fanatical extremist group, the New Salem Philanthropic Society, advocating for a "Second Salem" and the eradication of wizardkind).
The film takes place over two days.[12]
Plot
The film opens with a dark setting where a bunch of people are gathered. Then, there is a flash of light and the back of a wizard, later revealed to be Gellert Grindelwald. Then, there is a montage of newspapers before we finally settle in New York. We see Newton "Newt" Scamander on a ship as it arrives, and he gets off. He wanders around and comes to a gathering outside a bank, where Mary Lou Barebone is ranting about the wizards. Newt bumps into Jacob Kowalski, a No-Maj who is trying to get a bank loan to open a bakery. Newt then spots his Niffler, which has escaped from his trunk, trying to steal silver and gold.
He goes into the bank to find the Niffler, but leaves behind an Occamy egg which Jacob tries to return but to no avail. Newt is then picked up by Porpentina "Tina" Goldstein, who tries to take him in to MACUSA, but no one listens. Graves, an employee, tries to take them in. Jacob returns to his house, having mistakenly picked up Newt's suitcase. Upon opening it, several of Newt's beasts escape, including an Erumpent and a Murtlap.
Modesty Barebone, a girl in Mary Lou's orphanage with her brother, Credence, sings about the bad witches. Credence turns out to be a young and scared boy afraid of his mother.
Tina takes Newt and Jacob to her house where they meet Queenie, Tina's sister. Inside their room, Newt disappears into his case, and Jacob follows. They meet Newt's other beasts. We later see the Barebones visit a town hall, where they meet Henry Shaw Senior and his son, also named Henry Shaw. Henry Senior waves them away.
Meanwhile, Jacob and Newt, on the run from the Goldsteins as well as MACUSA, find their first beast in Central Park, an Erumpent. After much difficulty, they capture it. Henry Junior, the New York senator, is killed by a dark force later revealed to be an Obscurial. Tina catches Jacob and Newt and goes to Seraphina Picquery. Seraphina captures the trio, believing them to be the cause of Shaw's death, and has them locked up. Graves orders them to be taken to a chamber to be killed, but they escape with the help of Queenie.
Together, the four head to The Blind Pig for information concerning the last two beasts missing from Newt's case. They manage to catch them at a department store.
Graves goes to the orphanage, but Credence's powers manifest and Mary Lou is killed. Credence escapes and wreaks havoc. Newt and Tina find him and try to calm him down, but he is killed on Seraphina's orders. Through Newt's Revelio Charm, Graves is revealed to be none other than Gellert Grindelwald.
Jacob and the rest of the No-Majs are obliviated with the help of the Thunderbird Newt rescued, Frank. Newt returns to England. Jacob opens a bakery with some of his products looking like the beasts he had met before. Queenie enters, and Jacob smiles at her, seemingly beginning to remember the events he has been through.
Characters
The following is a list of the relevant characters who appeared in the film, most of whom (as of now, the only known exceptions are Newt Scamander and Porpentina Goldstein, who are mentioned on the Fantastic Beasts and Where to Find Them book) are completely original to this work and never mentioned anywhere else in canon before.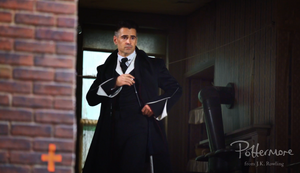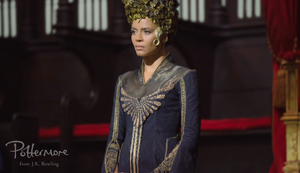 Cast
(In order of appearance)
Uncredited
Beasts
The following is a list of beasts that appear in the first film:
List of deaths
Videos
Gallery
Home media
Fantastic Beasts and Where to Find Them was released on Digital HD on 7 March 2017, and on DVD, 4K UHD, and Blu-Ray on 28 March 2017 with 11 deleted scenes (lasting 14:33 in total): Major Investigation Department; Jacob Tenement; Newt's Case; MACUSA Cell; Creocreatura; Tracking Demiguise; Suitcase Celebration; Skyscraper Roof; Obscuris Unleashed, Part 1; Obscuris Unleashed, Part 2; Newt Goodbye and additional content such as interviews.[41]
Behind the scenes
The film's set-production name was "Boswell".[42]
At the origin, Fantastic Beasts and Where to Find Them was supposed to be a faux documentary about Newton Scamander.[43]
Jacob Kowalski is the Wizarding world franchise's first main Muggle character.[15]
Albus Dumbledore is mentioned in the film; he was one of Newt's teachers at Hogwarts, and the only one to speak out against his expulsion.
Gellert Grindelwald, and the intensifying of an international manhunt for him, is mentioned in the film as a story on the cover of The New York Ghost newspaper.
On set, the unknown creature wreaking havoc was only referred to as an Obscurus[44], a likely reference to Obscurus Books the publisher of Fantastic Beasts and Where to Find Them.
David Yates has said that a male character that already appeared in the Harry Potter film series will appear in the second film adaptation of Fantastic Beasts and Where to Find Them.[45] This was later revealed to be Albus Dumbledore.
The film was the last of the Harry Potter franchise released on celluloid film, getting a limited 70mm release upon its initial run. [46]
David Heyman has said that originally he and producer Lionel Wigram were thinking the film was only going to be "a documentary about Newt" until Rowling somehow found out and told them she had thought about a different kind of film already.[47]
Notes and references