Warning!

At least some content in this article is derived from information featured in Harry Potter: Hogwarts Mystery. Spoilers will be present within the article.
Felix Rosier (born c. 1969) was a wizard who began attending Hogwarts School of Witchcraft and Wizardry in 1980 and was Sorted into Slytherin. In 1984, he had been made a Prefect, and was responsible for watching over the first years. He graduated from Hogwarts in 1987.
Biography
Early life

(1968/69-1980)
Felix was born in the late 1960s. His father may have been a top Death Eater killed or imprisoned during the First Wizarding War.[4]
Hogwarts years

(1980-1987)
Felix started his education in 1980 and was sorted into Slytherin house. He cared about the House Cup and having Slytherin in the lead. Sometimes this meant breaking the rules, such as using the Freezing Charm on Slytherin Quidditch team's opponents to help Slytherin win the Quidditch Cup.[1]
In his fifth year, Felix became the Slytherin male Prefect.
After Hogwarts

(1987-)
Felix later went on to become a dragonologist after graduating from Hogwarts and specialised in Peruvian Vipertooths.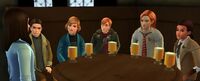 At some point, Bill Weasley had contacted Felix and the other prefects for a get-together at the Three Broomsticks pub in Hogsmeade.
Magical abilities and skills
Possessions
Behind the scenes
Appearances
Notes and references