"Fire seeds are used in certain potions. It is advisable to make sure that the fires on the bushes that bear them are thoroughly extinguished before picking."
—Folio Bruti on the Fire Seed Bush
The
Fire Seed Bush
, also known as
Fire Seed Plant
[1]
, is a
magical
plant that
burns
for as long as it lives.
[2]
It produces
Fire Seeds
, which are used in certain
potions
[3]
and for hatching
dragon eggs
.
[1]
Fire Seed Bushes are grown in the Herbology Greenhouses at Hogwarts School of Witchcraft and Wizardry.[3] There is also said to be a small group of caves at the Hogwarts' Forbidden Forest Clearing known as the Fire Seed Caves, in which exist several plants of this kind.[2]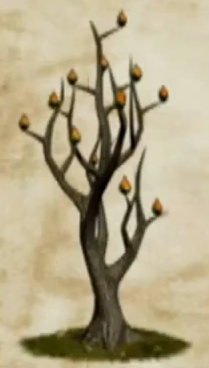 Appearances
Notes and references

This article about a plant is a stub. You can help by expanding it.
Community content is available under
CC-BY-SA
unless otherwise noted.