Fluxweed was a magical plant and member of the mustard family.[1]
Description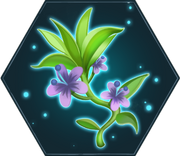 When picked at the full moon, it could be used in the making of the Polyjuice Potion.[3] Sixteen scruples were needed to make the potion.[5]
It was also possible to use Fluxweed Syrup alone to achieve certain effects of the Polyjuice Potion.[4]
History
When trying to persuade Professor Severus Snape to attend Rubeus Hagrid's surprise birthday party in 1984 by gifting him potion ingredients, Jacob's sibling found fluxweed in the Artefact Room at Hogwarts School of Witchcraft and Wizardry with help from Ben Copper and Penny Haywood.[6]
"Today we will learn proper care for the ever mutable Fluxweed. Part of the mustard family, this plant has many used, particularly in Polyjuice Potion. It all depends on when you pick it, as you'll soon learn. Now to discuss the various ways in which Fluxweed functions."
— Professor Sprout to sixth-year Herbology students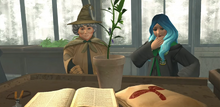 During the 1989–1990 school year at Hogwarts School of Witchcraft and Wizardry, sixth-year Herbology students were taught about this plant by Professor Pomona Sprout, including its cultivation, uses, functions and when best to pick it.[1]
In 1992, Hermione Granger used fluxweed to brew Polyjuice Potion in order to infiltrate the Slytherin Common Room, along with its other ingredients.[3]
Etymology
The word Flux means constant change or flow, so it makes logical sense that it would be an ingredient in Polyjuice Potion.
Behind the scenes
The use of fluxweed in the Polyjuice Potion was chosen by J. K. Rowling to represent "the mutability of the body as it changed into another".[7]
Appearances
Notes and references