Jurassic World: Dominion Dominates Fandom Wikis - The Loop
Play Sound
"Snape made them all nervous, breathing down their necks while they tried to remember how to make a Forgetfulness potion."
— The first-year Potions exam in 1992 involving this potion
The Forgetfulness Potion was a potion which caused an unknown degree of memory loss in the drinker.[1] The recipe for this potion could be found in Magical Drafts and Potions; its key ingredients included Lethe River Water, mistletoe berries, and Valerian sprigs.[1][3]
History
During the 1986–1987 school year, Penny Haywood asked Jacob's sibling to brew the potion with her in secret, intending to drink it herself to erase a painful memory.[3]
Since this potion was of beginner's level, Professor Severus Snape had his first-year students brew this potion for their final exam in 1992.[2]
Second-year students studied this potion in the 2009–2010 school year.[4]
Recipe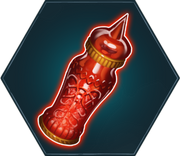 Part 1
Add 2 drops of Lethe River Water to your cauldron
Gently heat for 20 seconds
Add 2 Valerian sprigs to your cauldron
Stir 3 times, clockwise
Wave your wand
Leave to brew and return in 45-60 minutes.[1]
Part 2
Add 2 measures of Standard Ingredient to the mortar
Add 4 mistletoe berries to the mortar
Crush into a medium-fine powder using the pestle
Add 2 pinches of the crushed mixture to your cauldron
Stir 5 times, anti-clockwise
Wave your wand to complete the potion.[1]
See also
Behind the scenes
Given that every potion's brewing process must include a magical component to complete it, the most likely spell to complete this potion's brewing process is a Memory Charm.
Appearances
Notes and references