Jurassic World: Dominion Dominates Fandom Wikis - The Loop
Play Sound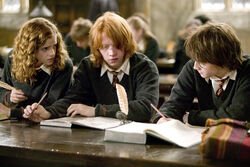 Minerva McGonagall: "You are now entering a most important phase of your magical education! Your Ordinary Wizarding Levels are drawing closer —"
Dean Thomas: "We don't take O.W.L.s till fifth year!"
Minerva McGonagall: "Maybe not, Thomas, but believe me, you need all the preparation you can get!"
— The importance of the fourth year
This article covers information about the fourth year at Hogwarts School of Witchcraft and Wizardry. A student in their fourth year at Hogwarts was called a fourth-year (with a hyphen). Fourth-years were typically 14 to 15 years of age.
The fourth year was almost identical in its structure to the third; students studied two or more elective courses in addition to the core classes, and were allowed into Hogsmeade during selected weekends.[1]
Overall
"All the fourth-years had noticed a definite increase in the amount of work they were required to do this term."
— The large workload given in the fourth year
Fourth-year students had to take Transfiguration, Charms, Potions, History of Magic, Defence Against the Dark Arts, Astronomy and Herbology. They also had to take at least two of Divination, Arithmancy, Study of Ancient Runes, Care of Magical Creatures, and Muggle Studies. Students could choose to drop an elective if it became a burden.[2]
Fourth-years typically got more work than third-years, to prepare for their O.W.L.s.[3]
Curriculum
Subject
Curriculum




"Professor Flitwick had asked them to read three extra books in preparation for their lesson on Summoning Charms."
— A 1995 fourth year Charms lesson

"Professor Snape was forcing them to research antidotes. They took this one seriously, as he had hinted that he might be poisoning one of them before Christmas to see if their antidote worked."
— A 1995 fourth year Potions lesson

"Meanwhile Professor Binns, the ghost who taught History of Magic, had them writing weekly essays on the goblin rebellions of the eighteenth century."
— A 1995 fourth year History of Magic lesson

"Even Hagrid was adding to their workload. The Blast-Ended Skrewts were growing at a remarkable pace given that nobody had yet discovered what they ate. Hagrid was delighted, and as part of their "project," suggested that they come down to his hut on alternate evenings to observe the skrewts and make notes on their extraordinary behaviour."
— A 1995 Care of Magical Creatures lesson



Required textbooks
Appearances
Notes and references
↑ Harry Potter and the Goblet of Fire, Chapter 19 (The Hungarian Horntail)
↑ 3.0 3.1 3.2 3.3 3.4 3.5 3.6 Harry Potter and the Goblet of Fire, Chapter 15 (Beauxbatons and Durmstrang)
↑ 4.0 4.1 4.2 4.3 4.4 4.5 4.6 Harry Potter and the Goblet of Fire, Chapter 14 (The Unforgivable Curses)
↑ 5.0 5.1 5.2 Harry Potter and the Goblet of Fire, Chapter 28 (The Madness of Mr Crouch)
↑ 8.0 8.1 8.2 8.3 Harry Potter and the Goblet of Fire, Chapter 18 (The Weighing of the Wands)
↑ 9.0 9.1 Harry Potter and the Goblet of Fire, Chapter 26 (The Second Task)
↑ Harry Potter: Hogwarts Mystery, Year 4, Chapter 4 (Curse-Breakers) - Charms Lesson "Vermillious"
↑ Harry Potter: Hogwarts Mystery, Year 4, Chapter 2 (The Mysterious Madam Rakepick) - Charms Lesson "Bombarda"
↑ Harry Potter: Hogwarts Mystery, Year 4, Chapter 16 (The Forest Vault) - Charms Lesson "Colloportus"
↑ Harry Potter: Hogwarts Mystery, Year 4, Chapter 7 (Beast, Beings, and Creatures) - Charms Lesson "Cistem Aperio"
↑ Harry Potter: Hogwarts Mystery, Year 4, Chapter 10 (Seeing Red) - Charms Lesson "Scourgify"
↑ Harry Potter: Hogwarts Mystery, Year 4, Chapter 12 (Working with Snape) - Charms Lesson "Diffindo"
↑ 16.0 16.1 16.2 16.3 Harry Potter and the Goblet of Fire, Chapter 22 (The Unexpected Task)
↑ Harry Potter: Hogwarts Mystery, Year 4, Chapter 3 (All About Bowtruckles) - Transfiguration Lesson "Evanesco"
↑ Harry Potter: Hogwarts Mystery, Year 4, Chapter 5 (Time to Fly) - Transfiguration Lesson "Vera Verto"
↑ Harry Potter: Hogwarts Mystery, Year 4, Chapter 10 (Seeing Red) - Transfiguration Lesson "Orchideous"
↑ Harry Potter: Hogwarts Mystery, Year 4, Chapter 12 (Working with Snape) - Transfiguration Lesson "Serpensortia"
↑ Harry Potter: Hogwarts Mystery, Year 4, Chapter 14 (The Spider's Lair) - Transfiguration Lesson "Colovaria"
↑ Harry Potter: Hogwarts Mystery, Year 4, Chapter 8 (Sickleworth) - Transfiguration Lesson "Beetle to Button"
↑ Harry Potter and the Goblet of Fire, Chapter 27 (Padfoot Returns)
↑ Harry Potter: Hogwarts Mystery, Year 4, Chapter 2 (The Mysterious Madam Rakepick) - Potions Lesson "Calming Draught"
↑ Harry Potter: Hogwarts Mystery, Year 4, Chapter 5 (Time to Fly) - Potions Lesson "Shrinking Solution"
↑ Harry Potter: Hogwarts Mystery, Year 4, Chapter 9 (Glittery Secrets) - Potions Lesson "Pepperup Potion"
↑ Harry Potter: Hogwarts Mystery, Year 4, Chapter 14 (The Spider's Lair) - Potions Lesson "Ageing Potion"
↑ Harry Potter: Hogwarts Mystery, Year 4, Chapter 6 (Explore the Forbidden Forest) - Potions Lesson "Weedosoros"
↑ Harry Potter: Hogwarts Mystery, Year 4, Chapter 16 (The Forest Vault) - Potions Lesson "Skele-Gro"
↑ Harry Potter: Hogwarts Mystery, Year 4, "First Date" Achievement - Part 1, Side Quest "Crushing It!"
↑ 32.0 32.1 32.2 32.3 Harry Potter and the Goblet of Fire, Chapter 13 (Mad-Eye Moody)
↑ Harry Potter and the Goblet of Fire, Chapter 20 (The First Task)
↑ Harry Potter: Hogwarts Mystery, Year 4, Chapter 7 (Beast, Beings, and Creatures) - Herbology Lesson "Flitterbloom"
↑ Harry Potter: Hogwarts Mystery, Year 4, Chapter 11 (Beautification Potion) - Herbology Lesson "Shrivelfig"
↑ Harry Potter: Hogwarts Mystery, Year 4, Chapter 1 (Year Four Begins) - Herbology Lesson "Wiggentree"
↑ Harry Potter: Hogwarts Mystery, Year 4, Chapter 15 (Dark Secrets) - Herbology Lesson "Wormwood"
↑ Harry Potter and the Goblet of Fire, Chapter 24 (Rita Skeeter's Scoop)
↑ 39.0 39.1 Harry Potter and the Goblet of Fire, Chapter 21 (The House-Elf Liberation Front)
↑ Harry Potter: Hogwarts Mystery, Year 4, Chapter 1 (Year Four Begins) - Care of Magical Creatures Lesson "Fire Crab"
↑ Harry Potter: Hogwarts Mystery, Year 4, Chapter 3 (All About Bowtruckles) - Care of Magical Creatures Lesson "Bowtruckle"
↑ Harry Potter: Hogwarts Mystery, Year 4, Chapter 13 (The Centaur's Arrow) - Care of Magical Creatures Lesson "Kneazle"
↑ Harry Potter: Hogwarts Mystery, Year 4, Chapter 8 (Sickleworth) - Care of Magical Creatures Lesson "Murtlap"
↑ Harry Potter: Hogwarts Mystery, Year 4, Chapter 11 (Beautification Potion) - Care of Magical Creatures Lesson "Streeler"
↑ Harry Potter: Hogwarts Mystery, Year 4, Chapter 6 (Explore the Forbidden Forest) - Care of Magical Creatures Lesson "Niffler"
↑ Harry Potter and the Goblet of Fire, Chapter 29 (The Dream)
↑ Harry Potter and the Goblet of Fire, Chapter 10 (Mayhem at the Ministry)