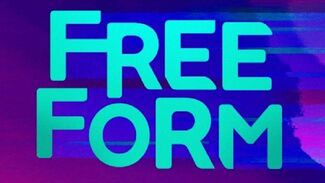 FreeForm is a basic cable/satellite broadcast network serving viewers in the United States. It is known for its broadcasts of original drama programming targeted at pre-teen and teen audiences.
FreeForm and Harry Potter
In the United States, it is one of two cable/satellite network television broadcasters for the Harry Potter films, along with the Disney Channel. The network is an affiliate of ABC, which serves as the network television broadcaster for the Harry Potter films, though it airs them much less frequently.
Since its acquisition of the films, FreeForm or the former ABC Family have often aired them during an extended weekend block titled the "Harry Potter Weekend Event." Broadcasts of the films are also a feature of the network's "25 Days of Christmas," in which it breaks from its normal programming schedule mainly for the broadcast of holiday-themed specials and films from December 1-25.
To date, FreeForm has broadcast all eight films in the series, premiering Harry Potter and the Deathly Hallows: Part 1 on 12 May 2013[1] and Harry Potter and the Deathly Hallows: Part 2 on 30 November 2013[2].
ABC Family / FreeForm broadcasts typically include material from deleted scenes (included on the DVD releases as bonus features) edited seamlessly into the films. Many broadcasts have also included exclusive content during the commercial breaks, such as interviews with cast and crew and/or previews for upcoming film or DVD releases. In January 2016, ABC Family changed its name to FreeForm.
On 8 August, 2016 it was announced that NBCUniversal had made a deal to begin airing the Harry Potter films exclusively on their networks in July 2018 including director's cuts of the first two films, extending through at least 2025. The films will be broadcast on NBC, as well as the cable/satellite networks USA Network and SyFy.[3] NBC will also air the Fantastic Beasts and Where to Find Them films, following their debut on HBO.[4]
Currently, since 2016, Freeform is not showing Harry Potter and the Order of the Phoenix as HBO has the rights to the film.[5][6]
External links
Notes and references
*Disclosure: Some of the links above are affiliate links, meaning, at no additional cost to you, Fandom will earn a commission if you click through and make a purchase. Community content is available under
CC-BY-SA
unless otherwise noted.