Jurassic World: Dominion Dominates Fandom Wikis - The Loop
Play Sound
The Freezing Spell (Glacius) was a charm that froze a target with icy-cold air created from the tip of the wand. This, in turn, could freeze water, extinguish fires, and cool off Fire Dwelling Salamanders.[1] There existed a spellbook for this charm.[1]
History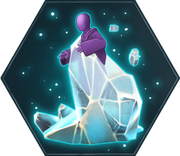 The door to the Vault of Ice, one of the Cursed Vaults at Hogwarts Castle, was enchanted with this spell.[2] In the 1985–1986 school year, when Rowan Khanna nearly entered it, they were attacked by the spell and knocked unconscious,[3] and had to recover in the Hospital Wing afterwards.[2]
During the 1993–1994 school year at Hogwarts School of Witchcraft and Wizardry, Professor Remus Lupin taught this spell to his third-year Defence Against the Dark Arts class. Later on that year, Professor Filius Flitwick also taught this spell to students and included it in the third year exams for charms class.[1]
When Harry tried to turn vinegar to wine incorrectly in a sixth-year Charms class in 1997, he turned it into ice instead, possibly casting this spell by accident.[4]
Effect
This charm had the unfortunate side-effect of making the breath of anyone nearby turn into thick white mist due to the extreme frigidity caused by the spell's casting.[1] An object could be enchanted with this spell to attack a person when touched. An example was one of the Cursed Vaults at Hogwarts Castle.[2]
Known practitioners
Etymology
The incantation is Latin for "ice".[7]
Behind the scenes
Appearances
Notes and references