Cobra Kai Season 4 - The Loop
Play Sound
The French National Quidditch team was the team that represented France for international Quidditch tournaments. The 1994 team was comprised primarily of women, and they played in pale blue robes on white brooms.[1]
Team special move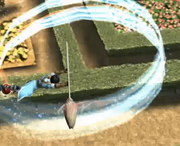 Their team special move, the Blitzen Ballet, involved a lot of spinning, and played out as follows: Chasers Marat and Mallard passed the quaffle, then Mallard swung across to Chaser Lafarge's broom as Mallard passed the Quaffle to Marat, who scored while the opposing Keeper was distracted.[1]
Stadium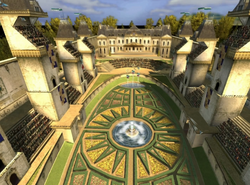 The French Quidditch Stadium resembled the Palace of Versailles, with an elaborate, symmetrical hedge maze and opulent gardens covering the field.[1]
Emblem
The French emblem depicted blue and beige squares in the background. On the front stood a white Cockatrice holding a broomstick, whilst above, on a white background, three flowers known as fleurs-de-lis decorated it.[1]
History
France played in the 1994 Quidditch World Cup. They didn't reach the final.[1]
France reached the final, but lost the match to Burkina Faso 300 to 220.[2]
France did not reach the World Cup this year, which was held in Argentina.
Squads
French National Team

1994

Chasers

Mathilde Mallard

Josephine Marat

Hildegarde Lafarge
Beaters
 

Alain Lacroix

Ninon Saucet
 
Keeper
Seeker

Bastien Janvier

Cybèle Peltier
Appearances
Notes and references