The French National Quidditch Team is the team that represents France for international Quidditch tournaments. The team is comprised primarily of women, and they play in pale blue robes on white brooms.
Team Special Move
Their Team Special Move, the Blitzen Ballet, involves a lot of spinning, and plays out as follows: Chasers Marat and Mallard pass the quaffle, then Mallard swings across to Chaser Lafarge's broom as Mallard passes the Quaffle to Marat, who scores while the opposing Keeper is distracted.[1]
Stadium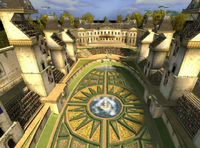 The French Quidditch Stadium resembles the Palace of Versailles, with opulent gardens covering the field.
History
France played in the 1994 Quidditch World Cup. They didn't reach the final.
France reached the final, but lost the match to Burkina Faso 300 to 220.[2]
France did not reach the World Cup this year, which was held in Argentina.
Squads
Appearances
Notes and references