She-Hulk Trailer Dropped - The Loop
Play Sound
"Gilderoy Lockhart explains how he trapped a ghoul using only a tea-strainer."
— Description
Gadding with Ghouls was a book written by Gilderoy Lockhart, part of his collected works. The book was a required textbook during the 1992–1993 school year, one of seven along with Break with a Banshee, Holidays with Hags, Travels with Trolls, Voyages with Vampires, Wanderings with Werewolves and Year with the Yeti.[1]
History
"Why, I remember the time when I was writing my second bestseller, Gadding with Ghouls. I believed that the more exposure I got in the press, the better my career would progress. Trouble was, I became overexposed! And it wasn't until I went mysteriously missing for three weeks, subsequently leaking the story to the Prophet that I'd been captured by Trolls in the wilds of Stockton-on-Tees, that I managed to regain my former prominent position as the world's most popular wizard."
— Lockhart regarding the writing of this book
During the period in which Gilderoy Lockhart was writing Gadding with Ghouls, he became extraordinarily well known and overexposed in the eye of the public, draining his popularity. Lockhart then went mysteriously missing for three weeks, after which he leaked to the Daily Prophet that he had been captured by trolls in the wilds of Stockton-on-Tees. The story boosted his popularity once again, and Gadding with Ghouls subsequently became Lockhart's second bestseller.[2]
Gadding with Ghouls was one of the books Lockhart assigned to students in his Defence Against the Dark Arts classes.[3]
While getting Lockhart to give her permission to get a book in the Restricted Section, Hermione Granger revealed that there is a mention of slow-acting venom in this book. Lockhart stated that this book was "possibly my very favourite" and Hermione replied that he was very clever in the way he trapped the last ghoul with a tea-strainer.[4]
Later that year, Harry expressed his desire to throw his copy of this book at Lockhart's face for his insistence that Rubeus Hagrid was guilty of opening the Chamber of Secrets.[5]
Behind the scenes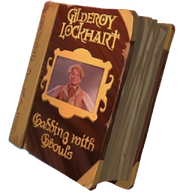 This book is somewhat of an odd one out. While the rest of Lockhart's works deal with dangerous creatures, ghouls are only be classified as XX creatures, and normally do not do anything worse than growl at intruders.[6] However, these may have been Chameleon Ghouls, which are known to be more aggressive. Alternatively, this may be another indication on Lockhart's oversight and exaggeration on all the information he provided.
Appearances
Notes and references