"Then he waved the wand once, and the letters of his name rearranged themselves..."

This page is being considered for renaming to Snowdrop.

If you disagree with this proposal, please explain why at Category talk:Candidates for renaming.
Galanthus Nivalis, or the common snowdrop, is a species of plant.
Description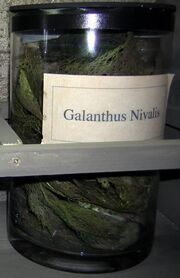 This plant can be used in Potion-making, and Severus Snape kept a jar of these plants in his office in Hogwarts Castle during the 1990s.[2] The plant is an ingredient in the making of the Exstimulo Potion, the Strong Exstimulo Potion and Potent Exstimulo Potion.[1]
Behind the scenes
Appearances
Notes and references
Community content is available under
CC-BY-SA
unless otherwise noted.