Jurassic World: Dominion Dominates Fandom Wikis - The Loop
Play Sound
"Are you a wizard or not?"

The title of this article is conjectural. Although it is based on canonical information, the actual name is a conjecture and may be supplanted at any time by additional information released from canonical sources. If this occurs, please move this page to the appropriate title.
Gargoyle #1: "You should be in class, Sonny Jim."
Harry: "This is urgent."
Gargoyle #2: "Ooooh, urgent, is it? Well, that's put us in our place, hasn't it?"
— Harry Potter tries to get into the staffroom.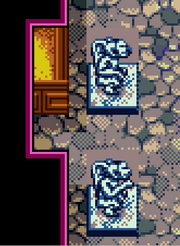 These two gargoyles stood in the staffroom corridor, protecting the staffroom at Hogwarts School of Witchcraft and Wizardry.[1]
History
In 1995, Harry Potter tried to get into the staffroom to see Professor Grubbly-Plank after his owl Hedwig was injured. They were less than sympathetic to his pleading.[1]
During the Battle of Hogwarts in 1998, both gargoyles were smashed apart by a stray jinx that had sailed through a broken window. As Harry rushed past them, one of the broken gargoyle's heads remarked "Oh, don't mind me... I'll just lie here and crumble..."[2]
Appearances
Notes and references