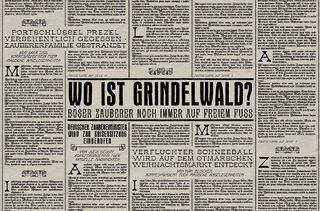 German was a language of West Germanic origin.[1] It was the sole official language of Germany, Austria, and Liechtenstein, and was also widely spoken in parts of Italy and Switzerland.[1]
History
A German illuminated manuscript from the 10th century depicted three wizards dismounting broomsticks.[2]
The German painting Günther der Gewalttätige ist der Gewinner (English: Günther the Violent Is the Winner), dated 1105, depicted the wizard Günther the Violent playing the early broom game Stichstock.[2]
By 1926, there was at least one German-language wizarding newspaper, which reported on Gellert Grindelwald with the headline "Wo Ist Grindelwald?: Böser Zauberer Noch Immer Freiem Fuss" (English: Where Is Grindelwald?: Evil Wizard Still On The Loose) that year.[3]
When Lord Voldemort showed up at an unidentified woman's house looking for Mykew Gregorovitch on 1 September 1997, she frantically told him in German that Gregorovitch did not live there, and that she did not know him.[4]
Appearances
Notes and references
Community content is available under
CC-BY-SA
unless otherwise noted.