"Is this all real? Or has this been happening inside my head?"

The topic of this article is of a real-life subject that has been mentioned "in-universe" in a canon source. The Harry Potter Wiki is written from the perspective that all information presented in canon is true (e.g., Hogwarts really exists), and, as such, details contained in this article may differ from real world facts.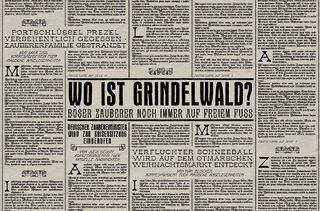 German was a language of West Germanic origin.[1] It was the sole official language of Germany, Austria, and Liechtenstein, and was also widely spoken in parts of Italy and Switzerland.[1]
History
A German illuminated manuscript from the 10th century depicted three wizards dismounting broomsticks.[2]
The German painting Günther der Gewalttätige ist der Gewinner (English: Günther the Violent Is the Winner), dated 1105, depicted the wizard Günther the Violent playing the early broom game Stichstock.[2]
By 1926, there was at least one German-language wizarding newspaper, which reported on Gellert Grindelwald with the headline "Wo Ist Grindelwald?: Böser Zauberer Noch Immer Freiem Fuss" (English: Where Is Grindelwald?: Evil Wizard Still On The Loose) that year.[3]
When Lord Voldemort showed up at an unidentified woman's house looking for Mykew Gregorovitch on 1 September 1997, she frantically told him in German that Gregorovitch did not live there, and that she did not know him.[4]
Appearances
Notes and references
↑ 1.0 1.1 German language on Wikipedia
↑ "All the 'Harry Potter' Easter eggs you missed in the 'Fantastic Beasts' opening" from Mashable (see this image)
↑ Harry Potter and the Deathly Hallows, Chapter 12 (Magic is Might)
*Disclosure: Some of the links above are affiliate links, meaning, at no additional cost to you, Fandom will earn a commission if you click through and make a purchase. Community content is available under
CC-BY-SA
unless otherwise noted.