She-Hulk Trailer Dropped - The Loop
Play Sound
"...in wizarding families the ghoul often becomes a talking point or even a family pet."
— Newt Scamander on the roles ghouls play in wizarding homes
A ghoul was a magical beast that resembled a slimy, buck-toothed ogre.[1]
Description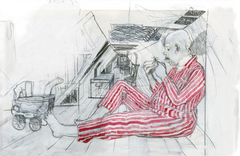 They tended to live in the attics or barns of wizards and witches. Relatively harmless creatures, they were seen as merely nuisances for all the noise they made.[1] They were relatively dimwitted and survived by eating bugs and other household pests. At most, they would groan and throw objects.[1]
A Ghoul Task Force existed at the Ministry of Magic, under the Department for the Regulation and Control of Magical Creatures. The Task Force was used to remove unwanted ghouls from houses that had passed in to Muggle ownership.[1] The Chameleon Ghoul was another variety of ghoul.[2][3]
History
Ghouls were taught about at Hogwarts School of Witchcraft and Wizardry in Ghoul Studies classes. The subject was taught in a classroom off the Serpentine Corridor.[4] In the 1988–1989 school year at Hogwarts, ghouls were taught in a fifth-year Defence Against the Dark Arts class by the then Professor Patricia Rakepick,[5] and later in the 1990–1991 school year, William Weasley taught seventh-year DADA students about Chameleon Ghouls.[3]
The attic in the Weasley family's home, The Burrow, was also home to a ghoul who occasionally banged on the pipes, when it felt that the house was too quiet.[6] In 1997, Ron's family transfigured their Ghoul to look more like Ron. The idea was to make the ghoul look like Ron to replace him when he, Harry and Hermione set off to find the Horcruxes in case any Ministry workers were suspicious of Ron not attending school. The Ghoul had a contagious look to him so when the Ministry workers went to The Burrow to check, the family said that he had a highly contagious disease called Spattergroit.[7]
During the 1993–1994 school year at Hogwarts, Draco Malfoy, with the help of Gregory Goyle and Vincent Crabbe released a ghoul to attack Neville Longbottom in the Muggle Studies Classroom as a cruel prank. Thankfully, Harry Potter and Ronald Weasley managed to rescue Neville from the fearsome ghoul.[8]
There was a "murderous old ghoul" in a toilet in 12 Grimmauld Place, which was encountered by Ron, Harry, Hermione, and Tonks when they were cleaning the house in 1995.[9]
The wizarding celebrity author Gilderoy Lockhart authored a book about Ghouls, titled Gadding with Ghouls, about his supposed encounters and experience with these creatures.[6][10]
Known ghouls
Behind the scenes
The Ghoul, originally spelled ghūl, originates from Arabic folklore, in which it is a type of Djinn that dwells in burial grounds and feeds on human flesh.
In modern literature they appear as undead monsters.
Appearances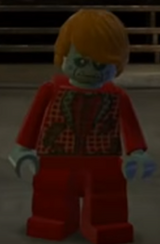 Notes and references