"Large frog covered in a thick, dark skin. It has been known to give warts to its handlers."
The
Giant Purple Toad
[5]
also known as a
Bullfrog
[6]
is a large
magical
toad
. Its diet consists mostly of dead
flies
and other insects. It has a long, green tongue
[5]
, thick dark skin
[7]
, and it likes to hide under objects, such as boxes.
[8]
Ungloved individuals may receive warts.
[7]
Giant Purple Toads have the ability to stun a human whenever disturbed, and are particularly vulnerable to the Verdimillious Charm spell and resistant to the Fire-Making Spell.[7]
Its warts (which can be removed with a Knockback Jinx) are used in the Dragon Tonic. However, having warts removed annoys them, and they disappear into a box or other hideout to spite the wizard who needs the warts.
Giant Purple Toads and their warts are sold at the Magical Menagerie.[9]
Appearances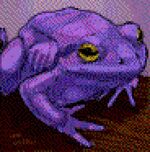 Notes and references