Jurassic World: Dominion Dominates Fandom Wikis - The Loop
Play Sound
"Is this all real? Or has this been happening inside my head?"

The topic of this article is of a real-life subject that has been mentioned "in-universe" in a canon source. The Harry Potter Wiki is written from the perspective that all information presented in canon is true (e.g., Hogwarts really existed), and, as such, details contained in this article may differ from real world facts.
"Large frog covered in a thick, dark skin. It has been known to give warts to its handlers."
The Giant Purple Toad[2] also known as the Bullfrog,[4] was a large, magical species of toad.[3]
Description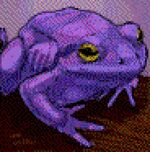 Its diet consisted mostly of dead blowflies and other insects.[3] It had a long, green tongue,[2] thick, purple skin covered in warts,[4] and it liked to hide under objects, such as boxes.[5] Individuals not wearing gloves might have received warts themselves.[4]
Giant Purple Toads had the ability to stun a human whenever disturbed, and were particularly vulnerable to the Verdimillious Charm spell, but resistant to the Fire-Making Spell.[4]
Its warts (which could be removed with a Knockback Jinx) were used in the Dragon Tonic. However, having warts removed annoyed them, and they disappeared into a box or other hideout to spite the wizard who needed the warts.[5]
Giant Purple Toads and their warts were sold at the Magical Menagerie.[3][5]
History
Before the start of the 1993–1994 school year at Hogwarts School of Witchcraft and Wizardry, Harry Potter, Ronald Weasley and Hermione Granger spotted several of these toads whilst shopping in the Magical Menagerie in Diagon Alley, amongst other creatures such as Streelers and Fire Crabs.[3]
Appearances
Notes and references