Doctor Strange in The Multiverse o Madness - The Loop
Play Sound
Warning!

At least some content in this article is derived from information featured in Harry Potter: Hogwarts Mystery. Spoilers will be present within the article.
"Is this all real? Or has this been happening inside my head?"

The topic of this article is of a real-life subject that has been mentioned "in-universe" in a canon source. The Harry Potter Wiki is written from the perspective that all information presented in canon is true (e.g., Hogwarts really existed), and, as such, details contained in this article may differ from real world facts.
"The bane of ancient mariners and students at Hogwarts - should the latter decide to go for a dip in the lake."
The Giant Squid is a gigantic cephalopod, with eight arms and two long tentacles.[4]
Description
Giant Squids can reach tremendous sizes and are one of the largest living organisms on earth.[5] It is strongly suspected Giant Squids had magical powers.[4] Giant Squids are known to Muggles, although they remain mysterious animals to them. Although their extraordinary bodies have washed up all over the world, Muggles only managed to capture a live Giant Squid on film in 2006.[4]
History
A semi-domesticated Giant Squid[4] inhabited the Great Lake, on the grounds of Hogwarts Castle. Though the Chocolate Frog Card for Giant Squids described the Hogwarts Giant Squid as "the bane" of students at Hogwarts who wanted to go for a "dip in the lake",[1] it appeared to be harmless, at least to humans, as it failed to attack Viktor Krum when he swam in the lake,[6] allowed students to feed it bread,[7] and rescued Dennis Creevey after he fell into the lake.[3]
The entrance to the Sunken Vault was in the form of a statue of a Giant Squid with the door in the beak of the creature. The statue was located in an underwater cave in the Great Lake. Jacob's sibling and their friends encountered it during their infiltration at the end of the 1989–1990 school year.[8]
In his sixth year, Ron Weasley once stated that dating Lavender Brown was like going out with a giant squid because the more that he hinted that he wanted to finish the relationship, the tighter she held on.[9]
Behind the scenes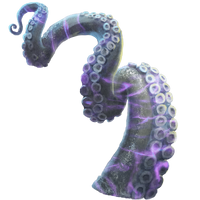 True Giant Squids (genus "Architeuthis") are deep-sea-dwelling creatures and can not live in fresh water such as inland lochs in Scotland. It would not be able to stand the sunlight, pressure, lack of salinity of the water, the space or the lack of food. At one point during the books it is fed bread, which it would not be able to digest. Giant Squids also have very tender skin that would break if they were tickled by a stick, as the Weasley twins did. However, it is possible that the Hogwarts Giant Squid is a magical subspecies, similar to, for instance, what Kneazles are to mundane cats, and has different tolerences.
Appearances
Notes and references