Warning!

At least some content in this article is derived from information featured in Harry Potter: Hogwarts Mystery. Spoilers will be present within the article.
"245 years dressing the Elegant Wizard"
— Coupon for Gladrags Wizardwear in the Daily Prophet
Gladrags Wizardwear is a clothing store that was founded in 1750[1] and run by Gladrags Wizardwear Group Ltd., with branches in London, Paris and Hogsmeade.[2] It is full of quirky merchandise and appears to specialise in strange and unusual socks.[3]
History
" [Harry, Ron and Hermione] went into Gladrags Wizardwear to buy a present for Dobby, where they had fun selecting the most lurid socks they could find, including a pair patterned with flashing gold and silver stars, and another that screamed loudly when they became too smelly."
— The trio visiting the shop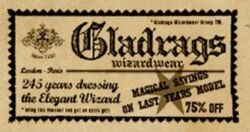 Gladrags took out a large billboard-size advertisement at the final of the 1994 Quidditch World Cup, on 15 August.[2]
On 6 March, 1995, Harry Potter, Ronald Weasley and Hermione Granger visited the Hogsmeade branch of Gladrags to buy a pair of novelty socks for Dobby's birthday present.[3]
On 14 January, 1996, there was a 75% off coupon for Gladrags in the Daily Prophet.[1]
Behind the scenes
Gladrags is a slang term for clothing purchased vintage or from a consignment shop.
Handbags and Gladrags was the name of a 1967 song written by Mike d'Abo, who was at the time the lead singer for Manfred Mann.
There is a magazine based out of India called Gladrags, which focuses on the modelling industry and the Ms. India contest.
Gladrags is also the name of a company that specialises in organic cloth feminine products.
Appearances
Notes and references
*Disclosure: Some of the links above are affiliate links, meaning, at no additional cost to you, Fandom will earn a commission if you click through and make a purchase. Community content is available under
CC-BY-SA
unless otherwise noted.