Glanmore Peakes
(
1677
–
1761
) was a
Scottish
wizard
who was famous for having slain the
Sea Serpent of Cromer
.
[1]
[2]
[3]
Biography
Peakes was born in 1677, in Scotland, Great Britain. It is likely[4] that he attended Hogwarts School of Witchcraft and Wizardry from 1688 to 1695.
Sometime after graduating, Peakes killed the Sea Serpent of Cromer, a sea serpent that lived off the shores of Cromer, Norfolk. This led to his having a Famous Wizard Card fashioned depicting him.
There was a corridor named after him on the sixth floor of Hogwarts Castle, in which a portrait of him hangs. There was also a bust of Glanmore in the sixth-floor corridor. There was also a set of portraits of Peakes hiding a secret passage between the sixth-floor landing of the Grand Staircase and the Entrance Hall side room. The password to said passage was "Sea Serpent".[5]
Behind the scenes
In the Console version of Harry Potter and the Prisoner of Azkaban, Glanmore Peakes's portrait speaks in a pronounced Scottish accent.
Glanmore may be related to Jimmy Peakes, a student who attended Hogwarts from 1994 to 2001.
It's unknown why Glanmore was featured on a famous wizard card for killing a Sea Serpent, as Sea Serpents are harmless creatures and are not dangerous to humans, according to Newt Scamander. It is possible, however, that wizards were unaware of the fact at the time, or that the sea-monster was unwilling to move on elsewhere and had to be dispatched to prevent breaches of wizarding secrecy.
Appearances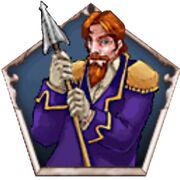 Notes and references
Community content is available under
CC-BY-SA
unless otherwise noted.