This apartment was rented by Tina and Queenie Goldstein in 1926. Located at 679 West 24th Street in New York, it was situated upstairs and consisted of two rooms.[1]
A sitting area with a fireplace, an iron, a clotheshorse, dress maker's dummy, sofa, and assorted magazines scattered about. There was also a kitchen with a table, chairs, and cupboards stocked with the components of a meal and containing assorted dishes and cutlery. There was a bedroom, that could be closed off with a pocket door, which contained two neatly-made twin beds and a bookcase.[2][3]
History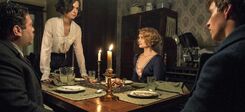 The liveliness of magic-infused housework makes up for an absence of luxury. The Goldstein sisters' landlady, Mrs Esposito, does not allow them to bring men into the building. However, Tina brings Newt Scamander and Jacob Kowalski to the apartment after she catches Newt and Jacob is bitten by the murtlap and puts them up in the spare bedroom for the night. They end up sneaking out of the room, which leds to Tina having to hunt them down.
Behind the scenes
Appearances
Notes and references
*Disclosure: Some of the links above are affiliate links, meaning, at no additional cost to you, Fandom will earn a commission if you click through and make a purchase. Community content is available under
CC-BY-SA
unless otherwise noted.