Wiki Targeted (Entertainment)
Play Sound
"Snape had given them so much homework, Harry thought he was likely to be in the sixth year before he finished it. Ron was just saying he wished he had asked Hermione how many rat tails you were supposed to add to a Hair-Raising Potion when an angry outburst from the floor above reached their ears."
— Description.
The Hair-Raising Potion was a potion that caused the drinker's hair to stand on end.[1][2][3]
History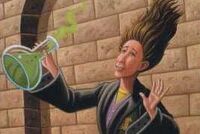 During the 1988–1989 school year at Hogwarts School of Witchcraft and Wizardry, Professor Severus Snape taught his fifth-years how to concoct this particular brew in Potions class.[2]
Harry Potter and Ron Weasley had to complete a homework assignment which involved this potion in their second year, in early 1993.[1]
The first Potions lesson for first-year students in the 2008–2009 school year was brewing this potion.[4]
Appearances
Notes and references