The Haitian National Quidditch team is the national Quidditch team of Haiti. They participated in the 2014 Quidditch World Cup.[1][2]
Prior to the game, rumours were spreading that the team was using Inferi to intimidate other teams. This rumour was declared "malicious and baseless" by the ICWQC,[3] but later proved true when Inferi attacked at the 2014 World Cup opening ceremony.[4]
History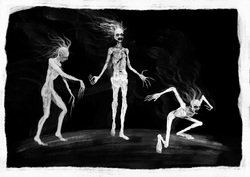 On 15 May, 2014, the team faced the Brazilian National Quidditch team during the first round of the 2014 Quidditch World Cup.[3]
The match ended when Haitian Beater Jean-Baptiste Bloncourt performed a Snitchnip, a foul for any Quidditch player sans the Seeker catching the Golden Snitch, resulting in the team's disqualification.[5]
Welsh manager Gwenog Jones, due to having bad blood with Brazilian manager José Barboza, later during the Brazil verses Wales game, showed support for Haiti by wearing an 'IT SHOULD HAVE BEEN HAITI' T-shirt.[6]
Squad
Appearances
Notes and references
*Disclosure: Some of the links above are affiliate links, meaning, at no additional cost to you, Fandom will earn a commission if you click through and make a purchase. Community content is available under
CC-BY-SA
unless otherwise noted.