We must've been through hundreds of books already and we can't find him anywhere —

This article is lacking a section listing all of its known appearances in canon. Please help the Harry Potter Wiki by adding such a section, so that it conforms with our layout guide.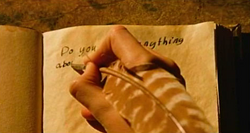 Handedness is a term that refers to having a preference for using, and greater fine motor skill in, one hand over the other.[1] In Muggles, handedness is usually defined by which hand is used to write, while handedness in wizards and witches is more commonly defined by which hand is used to hold the wand.[2] The majority of humans are right-handed.[1]
It is probable that handedness is a factor in wand-making, as Garrick Ollivander asked his customers which was their "wand arm."[2]
Individuals by handedness
Right-handed
Left-handed
Notes and references