"Is this all real? Or has this been happening inside my head?"

The topic of this article is of a real-life subject that has been mentioned "in-universe" in a canon source. The Harry Potter Wiki is written from the perspective that all information presented in canon is true (e.g., Hogwarts really existed), and, as such, details contained in this article may differ from real world facts.
A harp is a stringed musical instrument with the plane of its strings positioned perpendicular to the soundboard. Harps can be enchanted to be played without assistance.
History
1991-1992
During the 1991–1992 school year at Hogwarts, a harp was used by Quirinus Quirrell to prevent the three-headed dog Fluffy from waking up while Quirrell attempted to steal the Philosopher's Stone for Lord Voldemort.[2]
1993
During their performance at the 1993 Welcoming Feast, the Hogwarts choir were accompanied by a harp.[3]
1996-1997
A harp was stored in the Room of Requirement during the 1996–1997 school year.[4]
Appearances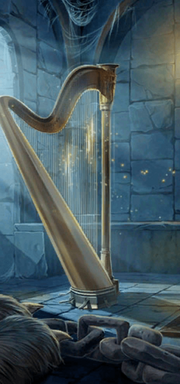 Notes and references
*Disclosure: Some of the links above are affiliate links, meaning, at no additional cost to you, Fandom will earn a commission if you click through and make a purchase. Community content is available under
CC-BY-SA
unless otherwise noted.