"Are you a wizard or not?"

The title of this article is conjectural. Although it is based on canonical information, the actual name is a conjecture and may be supplanted at any time by additional information released from canonical sources. If this occurs, please move this page to the appropriate title.
"Anyway — Harry, a very happy birthday to yeh. Got summat fer yeh here — I mighta sat on it at some point, but it'll taste all right."
This birthday cake was given to Harry Potter on his eleventh birthday in 1991 by Rubeus Hagrid. It was a large, sticky chocolate cake with "Happy Birthday Harry" written on it in green icing.[1] The next morning, Hagrid, feeling a bit peckish, said that he wouldn't say no to a bit of it, there being some leftover.[2]
Behind the scenes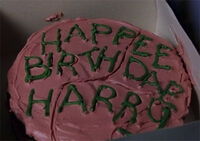 In the film adaptation of Harry Potter and the Philosopher's Stone, the cake has green icing like in the book, but is spelled out as "Happee Birthdae Harry" and has pink frosting instead of a chocolate frosting. The cake's flavour is not mentioned, but it is implied it is a chocolate cake frosted in strawberry, hence the pink frosting.
Appearances
Notes and references