"Anyway — Harry, a very happy birthday to yeh. Got summat fer yeh here — I mighta sat on it at some point, but it'll taste all right."
— Rubeus Hagrid giving Harry his birthday cake
On Harry Potter's eleventh birthday, Vernon Dursley attempted to evade Harry's Hogwarts acceptance letter by fleeing to Hut-on-the-Rock.[5] Regardless, Rubeus Hagrid, gamekeeper of Hogwarts School of Witchcraft and Wizardry, flew to the secluded hut. He subsequently broke down the door, threatened the Dursleys and handed Harry his very first birthday cake.[1]
History
Rubeus Hagrid: "Harry — yer a wizard."
Harry Potter: "I'm a what?"
Rubeus Hagrid: "A wizard, o' course, an' a thumpin' good'un, I'd say, once yeh've been trained up a bit. With a mum an' dad like yours, what else would yeh be? An' I reckon it's abou' time yeh read yer letter."
— Hagrid informing Harry of his true nature on his birthday
Hagrid, upon breaking into the hut, was astonished to learn that Harry had been told nothing truthful about who he really was, and what had actually happened to his parents. The gamekeeper expressed his fury to the Dursleys and told Harry that he was a wizard. He later explained who Lord Voldemort was and how he killed James and Lily Potter. He then proceeded to give Dudley Dursley a pig tail after Vernon insulted Albus Dumbledore.[1]
Once Hagrid and Harry had left the hut they proceeded to go to Diagon Alley where Harry would get his school supplies and Hagrid would present Harry with a beautiful Snowy Owl, which Harry would name Hedwig.[2]
Appearances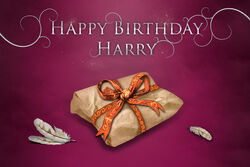 Notes and references