Spider-Man: No Way Home Trailer Dropped - The Loop
Play Sound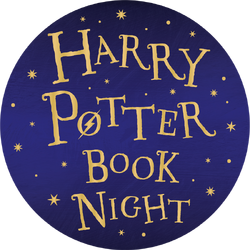 Harry Potter Book Night, also known as HPBN, is an annual event initiated by Bloomsbury Publishing, first announced on 12 October 2014 with the fist event to be held on 5 February 2015.[1]
Three years later, Scholastic joined the global celebration.[2][3] Other publishers known to have promoted the event included: Adriano Salani Editore (Italy), Ediciones Salamandra[4] now part of PRH Grupo Editorial (Spain and Latin America, notably Colombia[5] and Peru[6]), Éditions Gallimard[7] (France), Егмонт[8] (Bulgaria), and Gramedia Pustaka Utama[9] (Indonesia).
Overview
History
"Engorgio!"

It is requested that this article, or a section of this article, should be expanded. Please help the Harry Potter Wiki by expanding this article to give more complete coverage of its subject.
The 1st Harry Potter Book Night had 10,500 parties and celebrations in total[11]
The 2nd annual HPBN had 12,600 parties and celebrations in total.[19]
By the 4th annual HPBN, the event had been celebrated in 39 different countries with over 10,000 parties taking place around the world.[2] Nicholas Filbert participated in an event in Indonesia.[9]
The 5th annual HPBN had over 476 events over the world, with the most northern event being a school party in Russia, the most southern event at the Khandallah Library, Wellington, New Zealand, and the event furthest away from any other located in an international school in China.[20] In London, Jim Kay and Chris Riddell participated their first ever joint event together at Waterstones.[21]
The 7th annual HPBN was originally scheduled to be held on 4 February 2021[22] but was rescheduled;[17] due to Covid-19 restrictions for large-scale gatherings across the world, any activities and ideas were planed by Bloomsbury to be easily adapted to any group size, and suitable for participating virtual online as many as possible.[23]
Behind the scenes
The 2021 HPBN had a special feature similar to what was done for the Harry Potter At Home project, where the cast of Cursed Child read aloud together.[24][17] In stead of performing Chapter 6 that was previously done, this time they brought to life the chapter fitting the theme of the year, and read Harry Potter and the Philosopher's Stone, Chapter 5 (Diagon Alley). Gareth Reeves served as the main narrator with the following ensemble:
The hashtags for the event used on social media are #HarryPotterBookNight[17] and #HPBN,[18] the latter is not to be confused with #BNHP[25] which was what Barnes & Noble used especially for their events in 2016 for the then-upcoming Harry Potter and the Cursed Child[26] and an event similar to HPBN, titled Magical Holiday Ball.[27][28][29][30]

When HPBN finally went to the United States of America, Barnes & Noble held a complimentary event a few days later, though curiously used #BNHarryPotter20 for the event that year, as 2018 marked the 20th anniversary for Sorcerer's Stone in the States.[31] #BNHP is still occasionally used for Harry Potter related events, but not tied to Book Night.
External links
See also
Notes and references