She-Hulk Trailer Dropped - The Loop
Play Sound
Harry Potter Film Wizardry is a book by Brian Sibley that relays a comprehensive behind-the-scenes look at the making of the Harry Potter film series.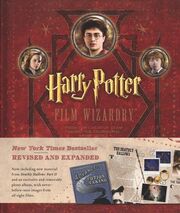 The foreword was penned by Daniel Radcliffe, Emma Watson, and Rupert Grint, and the introduction was written by producer David Heyman. It was released on 19 October, 2010.[1] It contains 160 pages.
The book has information from the different directors' perspectives of the film to the actors in the films such as:
With each film, there is a production diary and a design team that spills secrets of what their thought process was for that film and what they felt was their feelings while shooting that specific film.
There is also exclusive details about what the design, production and directing teams worked on how and why they decided to split Harry Potter and the Deathly Hallows into two films and specific scenes such as the Wedding of Bill Weasley and Fleur Delacour, the 1998 Break-in of Gringotts Wizarding Bank, the Ministry of Magic, and the Room of Requirement.
Also included is the production and design team's different challenges and perspectives throughout the eight films. Also included are specific scenes and how the production team put the magic together, examples being the three tasks of the Triwizard Tournament, the Little Hangleton graveyard, and even how they put together the challenges of Rubeus Hagrid the Part-giant, and the Black family tree tapestry, the Boggart, Hogsmeade, and much more.
This Book includes some props, which can be removed such as:
Table of contents
Covers
There are slight differences between the UK and the USA versions.
The UK version has a blue background and it depicts Harry Potter, Hermione Granger, Ron Weasley, Albus Dumbledore, Severus Snape, and Lord Voldemort. While Harry is standing in the middle of the cover (from to the top to bottom); the others have their own circle with just their faces, entwined by a background pattern.
The USA version has a red background and it depicts the same characters as the UK version. The only difference, other than the colour, it that instead of taking up the entire cover Harry has his own circle at the top that is entwined in the same background pattern.
External links
Notes and references