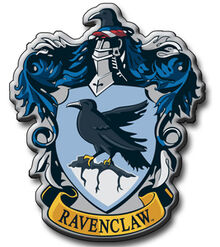 Welcome to Ravenclaw Tower, where Ravenclaw users participating in this site's House Points Game can come to seek the advice of their Prefects, or to co-ordinate work. If you are from another House, you may read the discussions here, but please do not post anything.
---
Welcome
Hi, everyone! I am one of the Ravenclaw prefects. Should you have any questions, feel free to ask them on this talk page or on my personal talk page. If you have any ideas for collaborative work, or something you would like assistance with from your fellow Ravenclaws, please post a message here.
Here are some general ideas for getting House points:
Cheers,
General Discussion

Archive 1 - General discussion archive for the April to July, 2009 term.
Points
Just to let some prefects know, I've created a number of articles that never recieved any points; Hengist Rawkes, Unidentified Hogwarts Headmaster, Unidentified Department of Mysteries intern, Albus Dumbledore's ex-girlfriend, Horace Slughorn's first office, Horace Slughorn's second office, Severus Snape's office, Defence Against the Dark Arts professor's office, Venomous Tentacula leaves, Potage, So You Think You'd Like to Work In Muggle Relations?, Have You Got What It Takes to Train Security Trolls?, Make a Bang at the Department of Magical Accidents and Catastrophes, Unidentified pamphlet on Wizard banking, Me, Myself, and I, and Ronald Weasley's bedroom; none of which have gotten me any points. I acknowledge that some of the articles were created before the House Points Game began, but according to the policy, they are still canidate to recieve points. Don't mean to pester anyone! --Parodist 01:36, October 16, 2009 (UTC)
Questions
I just joined the game as a Ravenclaw and I was wondering when the next term actually starts?
-- Head.Boy.Hog 01:45, January 9, 2011 EST
*Disclosure: Some of the links above are affiliate links, meaning, at no additional cost to you, Fandom will earn a commission if you click through and make a purchase. Community content is available under
CC-BY-SA
unless otherwise noted.