Doctor Strange in The Multiverse o Madness - The Loop
Play Sound
"Then he waved the wand once, and the letters of his name rearranged themselves..."

This page is being considered for renaming to Wizarding universe.

If you disagree with this proposal, please explain why at Category talk:Candidates for renaming.
"Engorgio!"

It is requested that this article, or a section of this article, should be expanded. Please help the Harry Potter Wiki by expanding this article to give more complete coverage of its subject.
The Harry Potter universe is a parallel, fictional reality created by author J. K. Rowling. It is similar to our universe, except that magic exists (hidden and unknown to the majority of Muggles) and minor geographical and historical differences are present.
Introduction
The Harry Potter universe was originally showcased in the form of the Harry Potter book series, but several companion books, as well as the Harry Potter film series, have been created in light of the series' popularity.[1]
As the Wizarding World franchise was introduced and expanded, the Harry Potter universe has also since included contents from the Fantastic Beasts screenplays and film series, various video games, etc.
Locations
A few of the more prominent locations created for, and present in the Harry Potter universe are listed below: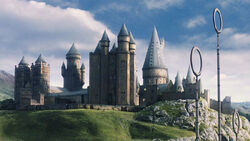 Timeline
Original timeline
No notable events.
No notable events.
No notable events.
Plot to restore Lord Voldemort
Notes and references