House of the Dragon Trailer - The Loop
Play Sound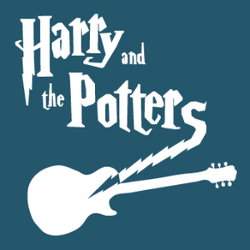 Harry and the Potters are an indie rock band and pioneers of Wizard rock formed in Norwood, Massachusetts in 2002 by brothers Joe and Paul DeGeorge. The band was inspired by the J. K. Rowling book series Harry Potter. Harry and the Potters music is simple unpolished indie rock with the Harry Potter books inspiring the lyrics, usually from the point of view of the fictional protagonist, Harry Potter.
After Harry and the Potters founded the wizard rock genre, many similar bands that also took on the persona, or dressed as a Harry Potter-themed character — began to appear at Harry Potter fan conventions. The band prefers to play in libraries. Though most fans of the music are previous fans of Harry Potter, some bands have attracted listeners outside of the Harry Potter fanbase.
Since the band's formation in 2002, they have released four full-length studio albums, three major extended plays, one compilation album and appeared in a further three compilation albums. The Boston Phoenix has called Harry and the Potters the "Pink Floyd of Potterdom."
Releases
Studio Albums
Harry and the Potters (2003)
Voldemort Can't Stop the Rock! (2004)
Harry and the Potters and the Power of Love (2006)
Lumos (2019)
Extended Plays
Mail Songs #1 (2003)
Scarred for Life (2006)
Untitled split EP with The Zambonies (2006)
The Enchanted Ceiling (2007)
In the Cupboard (2008)
Remixes (2010)
Mail Songs #2 (2011)
Hedwig Lives (2015)
Live Albums
Harry and the Potters at the Yule Ball (2009)
Live at the New York Public Library (2011)
Other Releases
Priori Incantatem (2009)
Sonorous Cassette Series (2009)
A Wizardly Christmas of Wizardry (2010)
External links