Boba Fett Returns - The Loop
Play Sound
Warning!

At least some content in this article is derived from information featured in Harry Potter: Hogwarts Mystery. Spoilers will be present within the article.
Harry Potter: "But there aren't wild dragons in Britain?"
Ron Weasley: "Of course there are. Common Welsh Green and Hebridean Blacks. The Ministry of Magic has a job hushing them up, I can tell you. Our lot have to keep putting spells on Muggles who've spotted them, to make them forget."
— Dragons indigenous to Great Britain
The Hebridean Black was a dragon species native to the Hebrides islands of Scotland. It had brilliant purple coloured eyes.[1]
Description and traits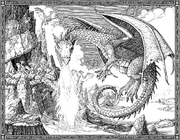 It had dark rough scales, ridges along its back, and a tail tipped with an arrow-shaped spike. The Hebridean Black had brilliant purple eyes, bat-like wings and could grow to be up to thirty feet long. Its favourite food was deer, although it had been known to carry off cattle.[1]
The Hebridean Black was more aggressive than the other dragon native to the British Isles, the Common Welsh Green, and thus required a territory of as much as one hundred square miles each. The MacFusty clan took responsibility for the dragons, and had so done for centuries.[1]
They were also the team mascot for the Banchory Bangers Quidditch team from Scotland.[2]
Appearances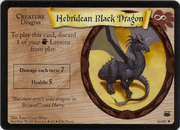 Notes and references