Wiki Targeted (Entertainment)
Play Sound
Helena Bonham Carter (born 26 May, 1966) is an English actress, who portrayed Bellatrix Lestrange in Harry Potter and the Order of the Phoenix and Harry Potter and the Half-Blood Prince and Harry Potter and the Deathly Hallows: Part 1 and Part 2. She replaced Helen McCrory, who was originally going to play the role but could not because of her pregnancy. McCrory subsequently took on the role of Narcissa Malfoy, Bellatrix's sister.
She portrayed Hermione Granger disguised as Bellatrix in the Gringotts Break-In scene in Harry Potter and the Deathly Hallows: Part 2. The voice for the transformed Bellatrix was done by Emma Watson.
Career
Bonham Carter has had no formal training in acting. She won a national writing contest in 1979 and used the money to pay for an entry into Spotlight, an actors' directory in England.
In 1983, she made her professional debut in a commercial at the age of 16 and also had a part in A Pattern of Roses, a minor television film. Her breakout performance was in the coveted role of Lucy Honeychurch in A Room with a View. After that, she found herself frequently typecast in ingenue characters in period flicks.
Her earlier roles included two episodes in the TV series Miami Vice ("Theresa" and "The Savage"), cameoing in the film Maurice, and the TV film A Hazard of Hearts in 1987, The Mask (1988), the 1989 films Francesco and Getting It Right, Hamlet (1990), Where Angels Fear to Tread (1991), episode "Hospital" in the TV series Absolutely Fabulous, and providing narration for 5 episodes of the Jackanory TV series.
In the late 90s, she appeared in the 1995 films Mighty Aphrodite, Margaret's Museum, and The Good Sex Guide, Keep the Aspidistra Flying (1997), Sweet Revenge (1998), and Women Talking Dirty (1999).
In the 2000s, she was in Novocaine (2001), Till Human Voices Wake Us (2002), Big Fish (2003), provided voice in the 2005 film Wallace & Gromit: The Curse of the Were-Rabbit and its video game, and Terminator Salvation (2009).
In 2010, Bonham Carter was in the British biographical comedy-drama Toast, and was also nominated for the Academy Award for Best Supporting Actress for the film The King's Speech that came out the same year.
She has since developed a richly diverse career in Hollywood, starring in films such as Fight Club (co-starring with Edward Norton and Brad Pitt), Conversations with Other Women, The Wings of the Dove (for which she was nominated for the Academy Award For Best Actress), Sweeney Todd, Alice in Wonderland and Planet of the Apes. The latter three were directed by her partner Tim Burton.
Comments on her character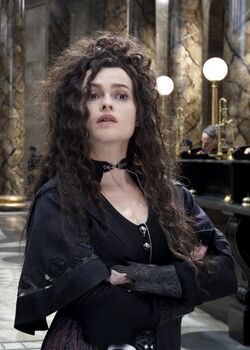 In an interview with Entertainment Weekly, Bonham Carter said the following about playing Bellatrix Lestrange: "She's obviously as bonkers as they come. There's a bit of a child-like madness there... You know how kids can be like savages before they get civilised? There's that sadist quality. Y'know, like boys who like to pick apart an insect for the sake of it... She's a sadist. She's very sick. She's got problems. I think she's been in prison a bit too long. But I suspect even before prison she had problems. She's a racist, obsessed with blood purity... And she's in love with Voldemort, really."[2]
Bonham Carter also had a role in determining Bellatrix's wardrobe for the film: "So I had the idea of the corset. She looks like a warrior. I mean, Bellatrix does mean warrior. And she's also a bit of a fatale. She's the right hand of Voldemort..."[3]
Bonham Carter also has invited Emma Watson to her own home to discuss the character Hermione Granger and her mind set as Bonham Carter wanted to portray Hermione true to how Emma does when she takes Polyjuice Potion in the film adaptations of Harry Potter and the Deathly Hallows and Hermione transforms into Bellatrix.
Personal life
Bonham Carter was once involved with Kenneth Branagh, who portrayed Gilderoy Lockhart in the film adaptation of Harry Potter and the Chamber of Secrets, and whom she met while he was still married to Emma Thompson, who plays Sybill Trelawney the Harry Potter films.
Bonham Carter's domestic partner was director Tim Burton, with whom she has two children: Billy-Ray and Nell Burton. The couple are good friends, and frequent colleagues, of actor Johnny Depp. Bonham Carter and Burton lived in Belsize Park, London with their two kids in ajoining houses that connect through Helena's Drawing Room. Bonham Carter announced in late December 2014 that she and Burton had separated amicably earlier that year.
Bonham Carter was made a CBE in the 2012 New Year Honours list for services to drama.[4]
Selective filmography
Year
Work
Award
Category
Result
1992
Howards End
BAFTA Film
Best Actress in a Supporting Role
Nominated
1994
Mary Shelley's Frankenstein
Saturn
Best Actress
Nominated
1997
The Wings of the Dove
Academy
Best Leading Actress
Nominated
BAFTA Film
Best Performance by an Actress in a Leading Role
Nominated
Golden Globe
Best Performance by an Actress in a Motion Picture - Drama
Nominated
Satellite
Best Actress – Motion Picture
Nominated
1998
The Theory of Flight
Satellite
Best Actress – Motion Picture
Nominated
1999
Fight Club
Empire
Best British Actress
Won
2001
Planet of the Apes
Empire
Best British Actress
Nominated
Saturn
Best Supporting Actress
Nominated
2002
The Heart of Me
BIFA
Best Performance by an Actress in a British Independent Film
Nominated
2005
Wallace & Gromit: The Curse of the Were-Rabbit
Annie
Best Voice Acting in a Feature Production
Nominated
2007
Conversations with Other Women
Evening Standard
British Film
Best Actress
Won
Sweeney Todd: The Demon Barber of Fleet Street
Empire
Best Actress
Won
Golden Globe
Best Performance by an Actress in a Motion Picture - Musical or Comedy
Nominated
Saturn
Best Actress
Nominated
Harry Potter and the Order of the Phoenix
N/A
2009
Harry Potter and the Half-Blood Prince
Terminator Salvation
2010
Alice in Wonderland
MTV Movie
Best Villain
Nominated
The King's Speech
Academy
Best Supporting Actress
Nominated
BAFTA Film
Best Supporting Actress
Won
BIFA
Best Supporting Actress
Won
Empire
Best Actress
Nominated
Golden Globe
Best Performance by an Actress in a Supporting Role
Nominated
IFTA
Best International Actress
Nominated
Harry Potter and the Deathly Hallows: Part 1
N/A
2011
Harry Potter and the Deathly Hallows: Part 2
2012
Les Misérables
Satellite
Best Cast – Motion Picture
Won
2015
Suffragette
BIFA
Best Supporting Actress
Nominated
2016
Alice Through the Looking Glass
N/A
2018
Ocean's 8
2020
Dragonheart: Vengeance
TV
Year
Work
Award
Category
Result
1993
Fatal Deception: Mrs Lee Harvey Oswald
Golden Globe
Best Performance by an Actress in a Miniseries or Motion Picture Made for TV
Nominated
1998
Merlin
Golden Globe
Best Performance by an Actress in a Supporting Role in a Series, Miniseries or Motion Picture
Nominated
Primetime Emmy
Outstanding Lead Actress in a Miniseries or a Movie
Nominated
2002
Live from Baghdad
Golden Globe
Best Performance by an Actress in a Miniseries or Motion Picture Made for TV
Nominated
Primetime Emmy
Outstanding Lead Actress in a Miniseries or a Movie
Nominated
2009
Enid
BAFTA TV
Best Actress
Nominated
International Emmy
Best Actress
Won
2013
Burton & Taylor
BAFTA TV
Best Actress – Miniseries or Television Film
Nominated
Golden Globe
Best Actress – Miniseries or Television Film
Nominated
Primetime Emmy
Outstanding Lead Actress in a Limited Series or Movie
Nominated
Satellite
Best Actress – Miniseries or Television Film
Nominated
2019
The Crown
Golden Globe
Best Supporting Actress – Series, Miniseries or TV Movie
Nominated
2020
Nominated
BAFTA TV
Best Actress in a Supporting Role
Nominated
Primetime Emmy
Outstanding Supporting Actress in a Drama Series
Nominated
2021
BAFTA TV
Best Actress in a Supporting Role
Nominated
Primetime Emmy
Outstanding Supporting Actress in a Drama Series
Pending
Behind the scenes
Bonham Carter accidentally perforated the eardrum of Matthew Lewis (Neville Longbottom) when she stuck her wand up his ear while filming the film adaptation of Harry Potter and the Order of the Phoenix.[2]
Due to the similarity in appearance between Bellatrix and her sister Andromeda Tonks, fans of the series set up an online petition to have Bonham Carter play Andromeda in the film adaptations of Deathly Hallows. However, Andromeda was cut from the films.
Bonham Carter has starred in three films outside the Wizarding World franchise with Johnny Depp (Gellert Grindelwald), Alan Rickman (Severus Snape), and Timothy Spall (Peter Pettigrew):
Sans the mentioned, Bonham Carter has worked alongside Johnny Depp in four other films: Charlie and the Chocolate Factory (2005), Corpse Bride (2005), Dark Shadows (2012), and The Lone Ranger (2013).

Corpse Bride also featured Paul Whitehouse.

She has starred with Robert Hardy (Cornelius Fudge) and Kenneth Branagh (Gilderoy Lockhart) in the 1994 film Mary Shelley's Frankenstein, which was directed by Branagh and scored by Patrick Doyle (composer of the film adaptation of Harry Potter and the Goblet of Fire).

She again starred in a film directed by Branagh and scored by Doyle, the 2015 Cinderella.

She was the celebrity guest star in the third episode of the TV series Life's Too Short, which starred Filius Flitwick actor Warwick Davis.
Bonham Carter has also starred alongside several other actors and actresses from the Harry Potter films in various projects:
External links
Notes and references