The Hogwarts Gobstone Club[1] (also called the Gobstones Club[2][3]) was a recreational club at Hogwarts School of Witchcraft and Wizardry for students interested in playing Gobstones. It was distinct from the Hogwarts Gobstones Team, which presumably played the game on a competitive level.[4]
History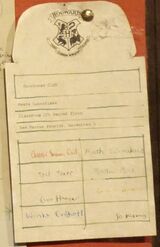 Circa the early 1940s, Eileen Prince was the President of the Hogwarts Gobstone Club,[1] in addition to being the Captain of the Hogwarts Gobstones Team.[4]
In the 1990s, the club was apparently headed by Marcus Fenwick, and met up at lunchtime in Classroom 22b on the second floor of Hogwarts Castle.[2] A sign-up sheet for the club was posted on the Gryffindor bulletin board during this period.[2] Students who signed up included Andrew Snowy Owl, Toad Toazer, Curt Hanger, Winky Crockett, Ruth Winikus, Miraphora Mina, and Jo King.[2]
Following the enactment of Educational Decree Number Twenty-Four by High Inquisitor Dolores Umbridge in 1995, which forcibly disbanded all student organisations, a second-year student was overheard wondering if this included the Gobstones Club by Harry Potter and Ron Weasley.[3] Ron sarcastically told the student "I reckon you'll be okay with Gobstones."[3]
Appearances
Notes and references
*Disclosure: Some of the links above are affiliate links, meaning, at no additional cost to you, Fandom will earn a commission if you click through and make a purchase. Community content is available under
CC-BY-SA
unless otherwise noted.