Warning!

At least some content in this article is derived from information featured in Harry Potter: Hogwarts Mystery. Spoilers will be present within the article.
The Headmaster or Headmistress of Hogwarts is the chief administrator of Hogwarts School of Witchcraft and Wizardry, by appointment of the school's Board of Governors. They were responsible for major decisions regarding the safety and the day-to-day functioning of the school, and acted as the school's primary authority, with the exception of the Hogwarts Board of Governors[1], and during a brief period in 1996, the "High Inquisitor"[2]. As such, the Headmaster is only person exempt from usual restrictions placed upon those found inside the school, such as being the only (human) inhabitant capable of Apparating and Disapparating on school grounds.[3]
Hogwarts also has one or multiple Deputy Heads that assist the Headmaster in his duties and who, in the event of a headmaster's incapacitation or unavailability, serve as acting head of the school until a new one is appointed.
The four founders of Hogwarts (Helga Hufflepuff, Godric Gryffindor, Salazar Slytherin, and Rowena Ravenclaw), however, never held this title, despite effectively being in charge of the school during their time.
Headmasters
Identified Headmasters of Hogwarts School of Witchcraft and Wizardry:
Portrait
Headmaster


(term of office or period)

Notes
First Headmaster of Hogwarts

(Early 11th century)

Brian Gagwilde
Heliotrope Wilkins
Phyllida Spore
Edessa Skandenberg
Fytherley Undercliffe
Antonia Creaseworthy
Elizabeth Burke
Vulpus
Vindictus Viridian
Amrose Swott
Dilys Derwent
Everard
Eupraxia Mole

(1876)

Quentin Trimble
Limebert
Dexter Fortescue
Basil Fronsac
Walter Aragon
Mordicus Egg
Brutus Scrimgeour
Phineas Nigellus Black

(–1925)

Armando Dippet

(Sometime after 1925 to between 1965 and 1971)[11]

Albus Dumbledore

(Between 1965–1971 or before[11] to 1997)

Suspended in 1993, later reinstated; assumed to have been sacked in 1996 after escaping a Ministry attempt to arrest him, reinstated later that year.
Minerva McGonagall

(1993)

Acting
Dolores Umbridge

(1996)

Though Umbridge was proclaimed headmistress, she was not acknowledged as such by the headmaster's office, which shut her out for the remainder of the year.
Minerva McGonagall

(1997)

Acting
Severus Snape

(1997–1998)

Minerva McGonagall

(1998 to at least 2020)
Unidentified Headmasters
Unknown name and portrait:
Behind the scenes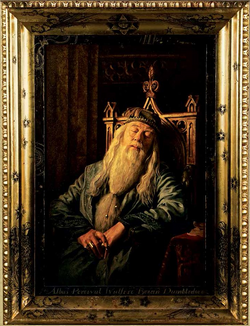 Appearances
See also
Notes and references
*Disclosure: Some of the links above are affiliate links, meaning, at no additional cost to you, Fandom will earn a commission if you click through and make a purchase. Community content is available under
CC-BY-SA
unless otherwise noted.