Doctor Strange in The Multiverse o Madness - The Loop
Play Sound
Warning!

At least some content in this article is derived from information featured in Harry Potter: Hogwarts Mystery. Spoilers will be present within the article.
"...'Homenum revelio' alerts the caster to any other human presence in the vicinity."
— Description
The Human-presence-revealing Spell[3] (Homenum Revelio) was a charm which revealed the presence of other humans in the surrounding environment. The spell indicated a body by a marker.[2] It was also a variation of the Revelio Charm.[1]
Effect
This spell created no flash of light when cast. When this spell was cast on a person it created an odd sensation. According to Harry Potter, it felt like "something was swooping low over him, immersing his body in its shadow".[4]
History
"She raised her wand and said, "Homenum Revelio." Nothing happened."
— Hermione Granger's use of this spell in 1997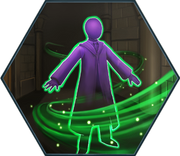 During the 1988–1989 school year at Hogwarts School of Witchcraft and Wizardry, Professor Patricia Rakepick taught her fifth year students this charm in Defence Against the Dark Arts, in preparation for their Ordinary Wizarding Levels that year.[5]
It was used in 1991 and 1993 by Dumbledore, nonverbally, to detect Harry and Ron under the former's Invisibility cloak.[3]
On 1 August 1997, Hermione Granger used this spell at 12 Grimmauld Place after escaping pursuing Death Eaters Antonin Dolohov and Thorfinn Rowle.[2] 30 December 1997, Death Eaters Selwyn and Travers ambushed Lovegoods house and Travers used this spell to locate Harry Potter.[6] It is possible that it is related to the spell Specialis Revelio, and it is very likely that the spell cannot detect magical creatures such as house-elves, goblins, etc.
Known practitioners
" Homenum revelio." said the voice at the foot of the stairs."
— Travers using this spell in 1998
Etymology
Hominum is the genitive, plural form of the Latin word homo, which means "person"[8]. Also in Latin, revelo means"I unveilor reveal".[9]
See also
Behind the scenes
Appearances
Notes and references