Ian Whyte (born 17 September, 1971) is a Welsh actor, stuntman and former professional basketball player. He played Olympe Maxime in full-body shots in the film adaptation of Harry Potter and the Goblet of Fire. He also did stunt work on Harry Potter and the Deathly Hallows: Part 1.
Filmography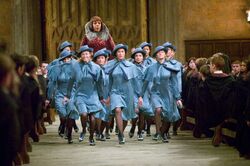 Appearances
External links
Harry Potter Page to Screen: The Complete Filmmaking Journey
This article about an actor or actress is a stub. You can help by expanding it.