"Are you a wizard or not?"

The title of this article is conjectural. Although it is based on canonical information, the actual name is a conjecture and may be supplanted at any time by additional information released from canonical sources. If this occurs, please move this page to the appropriate title.
This individual (fl. 1994 - 1996) was a British witch who was working at Hogwarts School of Witchcraft and Wizardry during the 1994–1995 school year. She attended the Yule Ball with the Headmaster of Durmstrang Institute, Professor Igor Karkaroff, and stepped onto the dance floor after Albus Dumbledore and Minerva McGonagall.[2]
Biography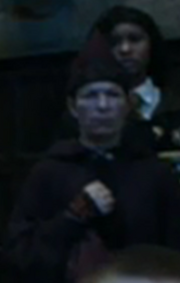 This witch was working at Hogwarts School of Witchcraft and Wizardry by 1994 when the Triwizard Tournament was being held at the school.
She was present at the Start-of-Term Feast. She was sat next to Severus Snape.[3]
She attended the Yule Ball after the First Task and stood with Professors Igor Karkaroff, Minerva McGonagall, Severus Snape and another witch, watching over the proceedings as a chaperone. She wore turquoise coloured robes and had her dark hair tied up.[2]
After Albus Dumbledore and McGonagall joined in the dancing, the professor joined in with Professor Karkaroff, who was spending most of the time with Professor Snape.[2]
She later watched the Second Task, supporting Harry Potter and Cedric Diggory.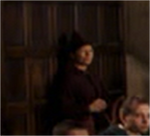 This witch continued her career at the school the following year. She attended the Start-of-Term Feast, where she watched over the students in the Great Hall.[4]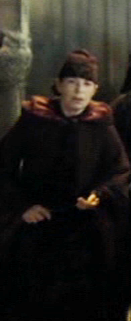 She was seen meanwhile the Order of the Phoenix members were arriving at the Great Hall, along with others professors such as Filius Flitwick and Pomona Sprout. Then she, along with Minerva McGonagall, Aurora Sinistra, Unidentified female Hogwarts teacher, Horace Slughorn, an Asian employee and members of the Order of the Phoenix came out of the Great Hall at the main entrance to the school to protect the school using protective charms to hold back against the attacks from Voldemort and his Death Eaters. It is unknown whether she survived the battle or not.[5]
Physical appearance
The woman appeared quite solemn and was nearing her elderly years. Her hair was dark black, her eyes were dark brown and she was noticeably shorter than most other professors, especially her date, Igor Karkaroff. When she attended the Yule Ball, she wore dark robes of turquoise and black.[2]
Appearances
Notes and references
*Disclosure: Some of the links above are affiliate links, meaning, at no additional cost to you, Fandom will earn a commission if you click through and make a purchase. Community content is available under
CC-BY-SA
unless otherwise noted.