Irma Black (née Crabbe) (fl. 1925-1938) was an English pure-blood witch who was the wife of Pollux Black, the mother of Walburga Black, Alphard Black, and Cygnus Black III, (through her first child) the maternal grandmother of Sirius Black and Regulus Black, and (through her third child) the paternal grandmother of Bellatrix Lestrange, Andromeda Tonks, and Narcissa Malfoy.[2]
Irma may also be a relative of Vincent Crabbe and his father.
Etymology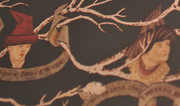 Irma is a German short form of names beginning with the Old Germanic element ermen, meaning "whole" or "universal".[3]
Behind the scenes
Appearances
Notes and references
*Disclosure: Some of the links above are affiliate links, meaning, at no additional cost to you, Fandom will earn a commission if you click through and make a purchase. Community content is available under
CC-BY-SA
unless otherwise noted.