Wiki Targeted (Entertainment)
Play Sound
John Christopher "Johnny" Depp II is an American actor, producer, and musician who portrayed Gellert Grindelwald in Fantastic Beasts and Where to Find Them and Fantastic Beasts: The Crimes of Grindelwald.[2][3]
In November 2020, Depp announced that he had been asked by Warner Bros. to step down from the role of Gellert Grindelwald following a libel lawsuit. He complied and resigned. Jude Law stated in an interview with Entertainment Tonight that Depp shot a day worth of scenes on his own for Fantastic Beasts 3 before being asked to resign.[4] The role will be portrayed by Mads Mikkelsen in the third Fantastic Beasts film.[5]
Career
Outside of the Wizarding World franchise, Johnny Depp is most famous for his roles in Edward Scissorhands, Sweeney Todd: The Demon Barber of Fleet Street, Charlie and the Chocolate Factory, Alice in Wonderland and the Pirates of the Carribean franchise.
Selective filmography
Year
Work
Award
Category
Result
1990
Edward Scissorhands
Golden Globe
Best Actor – Motion Picture Musical or Comedy
Nominated
1993
Benny & Joon
Golden Globe
Best Actor – Motion Picture Musical or Comedy
Nominated
MTV Movie
Best Comedic Performance
Nominated
1994
Ed Wood
Golden Globe
Best Actor – Motion Picture Musical or Comedy
Nominated
1999
Sleepy Hollow
Satellite
Best Actor – Motion Picture Musical or Comedy
Nominated
Saturn
Best Actor
Nominated
2001
From Hell
Saturn
Best Actor
Nominated
2003
Once Upon a Time in Mexico
Satellite
Best Actor in a Supporting Role, Comedy or Musical
Nominated
Pirates of the Caribbean: The Curse of the Black Pearl
Academy
Best Actor
Nominated
BAFTA Film
Best Actor in a Leading Role
Nominated
Empire
Best Actor
Won
Golden Globe
Best Actor – Motion Picture Musical or Comedy
Nominated
IFTA
Best International Actor
Won
MTV Movie
Best Male Performance
Won
Best Comedic Performance
Nominated
Satellite
Best Actor – Motion Picture Musical or Comedy
Nominated
Saturn
Best Actor
Nominated
Teen Choice
Choice Movie: Fight
Won
Choice Movie: Liar
Won
2004
Finding Neverland
Academy
Best Actor
Nominated
BAFTA Film
Best Actor in a Leading Role
Nominated
Golden Globe
Best Actor – Motion Picture Drama
Nominated
Satellite
Best Actor – Motion Picture Drama
Nominated
Saturn
Best Actor
Nominated
Teen Choice
Choice Movie Actor: Drama
Nominated
2005
Charlie and the Chocolate Factory
Golden Globe
Best Actor – Motion Picture Musical or Comedy
Nominated
IFTA
Best International Actor
Nominated
Teen Choice
Choice Movie Actor: Comedy
Won
2006
Pirates of the Caribbean: Dead Man's Chest
Golden Globe
Best Actor – Motion Picture Musical or Comedy
Nominated
MTV Movie
Best Performance
Won
Teen Choice
Choice Movie Actor: Action
Won
2007
Pirates of the Caribbean: At World's End
MTV Movie
Best Comedic Performance
Won
Teen Choice
Choice Movie Actor: Action
Won
Sweeney Todd: The Demon Barber of Fleet Street
Academy
Best Actor
Nominated
Golden Globe
Best Actor – Motion Picture Musical or Comedy
Won
MTV Movie
Best Villain
Won
Saturn
Best Actor
Nominated
Teen Choice
Choice Movie: Villain
Won
2009
Public Enemies
Satellite
Best Actor – Motion Picture Drama
Nominated
Teen Choice
Choice Summer Movie Star: Male
Nominated
2010
Alice in Wonderland
Golden Globe
Best Actor – Motion Picture Musical or Comedy
Nominated
The Tourist
Golden Globe
Best Actor – Motion Picture Musical or Comedy
Nominated
Teen Choice
Choice Movie Actor: Action
Won
2011
Pirates of the Caribbean: On Stranger Tides
Teen Choice
Choice Movie Actor: Sci-Fi/Fantasy
Nominated
Rango
Teen Choice
Choice Movie: Voice
Won
2014
Into the Woods
Satellite
Best Ensemble – Motion Picture
Won
2015
Black Mass
Satellite
Best Actor
Nominated
2016
Alice Through the Looking Glass
N/A
Fantastic Beasts and Where to Find Them
2017
Pirates of the Caribbean: Dead Men Tell No Tales
Teen Choice
Choice Movie Actor: Action
Nominated
Murder on the Orient Express
N/A
2018
Fantastic Beasts: The Crimes of Grindelwald
Teen Choice
Choice Movie: Villain
Nominated
Behind the scenes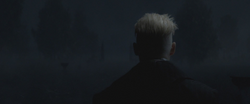 Grindelwald appeared in a promotional featurette for the film inspired by Fantastic Beasts and Where to Find Them, attacking a group of wizards. On the premiere of Alice Through the Looking Glass in May 2016, Johnny Depp was noted to have sported an unusual undercut and, when asked to comment, said "I cut it for a little part I did in a film".[6]
Johnny Depp was in the 1997 film Donnie Brasco, which was directed by Mike Newell (director of the film adaptation of Harry Potter and the Goblet of Fire) and scored by Patrick Doyle (composer of Goblet of Fire).
Depp has appeared in three films outside the Wizarding World franchise with Olympe Maxime actress Frances de la Tour: Alice in Wonderland (2010), Hugo (2011), and Into the Woods (2014).
Depp, alongside Jude Law and Colin Farrell (Percival Graves), portrayed the same character under different stages of transformation in the 2009 film The Imaginarium of Doctor Parnassus.

They were recast of the same role due to the death of the character's original actor, Heath Ledger.

Depp has starred in three films outside the Wizarding World franchise with Peter Pettigrew actor Timothy Spall, Severus Snape actor Alan Rickman, and Bellatrix Lestrange actress Helena Bonham Carter: Sweeney Todd: The Demon Barber of Fleet Street, Alice in Wonderland, and Alice Through the Looking Glass.
Sans the mentioned, Depp has worked alongside Helena Bonham Carter in four other films: Charlie and the Chocolate Factory (2005), Corpse Bride (2005), Dark Shadows (2012), and The Lone Ranger (2013).

Corpse Bride also featured Paul Whitehouse.

Depp has also starred alongside several other actors and actresses from the Harry Potter films in various projects:
External links
Notes and references