Justus Pilliwickle (1862-1953) was a British wizard, who worked for the British Ministry of Magic.[1]
Biography
Pilliwickle was born in 1862, somewhere in Great Britain, into a family of unknown Blood status. He presumably attended Hogwarts School of Witchcraft and Wizardry in his youth, being a British wizard. In his adult life, he was a celebrated Head of the Department of Magical Law Enforcement. He was featured on a Chocolate Frog Card for his impressive achievements in the British Ministry of Magic.[1]
Etymology
Justus is the latin word for equitable. This may indicate that Justus Pilliwickle was quite a fair and reasonable individual.
Behind the scenes
If Justus Pilliwickle attended Hogwarts School of Witchcraft and Wizardry in his youth, then he was Sorted in 1873 or 1874 (depending on his birthday being before or after 1 September, respectively), and would, thus, be on his second, third or fourth year in 1876, when the school caretaker Mr Rancorous Carpe devised an "elaborate trap" in an effort to remove Peeves from the Castle — which only resulted in Peeves getting hold of several cutlasses, crossbows, a blunderbuss and a miniature cannon, and forcing Headmistress Eupraxia Mole to evacuate the school for three days until she could manage to make a bargain with the poltergeist.
Appearances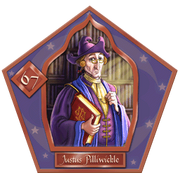 Notes and references
*Disclosure: Some of the links above are affiliate links, meaning, at no additional cost to you, Fandom will earn a commission if you click through and make a purchase. Community content is available under
CC-BY-SA
unless otherwise noted.