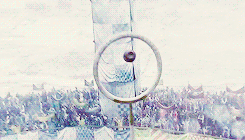 "I have to fly around our hoops and stop the other team from scoring."
— Description of the position
Keeper is a position in the Wizarding sport of Quidditch. There is one Keeper per team, and it is their job to guard the three goalposts attempting to stop the other team's Chasers from scoring.[1][2][3] The keeper also wears the most protection than any other position, which includes a helmet, shoulder/chest pads and knee pads. This effectively makes them heavier than most of their other team-mates.
History
The position of the Keeper has existed since at least the 13th century, although the role has changed somewhat over time. The Keeper was essentially a Chaser, with the added responsibilities of guarding the posts. However, with the addition of the scoring zone in 1620, Keepers generally kept inside this area in order to prevent the opposition from scoring. Keepers are only allowed out of this area to head off incoming Chasers.[3]
Traits
Keepers are typically well-built and athletic players who usually stick close to the goal posts where they can deploy their defensive skills to their fullest capacity.[3]
Known Keepers
Behind the scenes
Appearances
Notes and references
↑ Harry Potter and the Philosopher's Stone, Chapter 10 (Hallowe'en)
↑ 2.0 2.1 Harry Potter and the Philosopher's Stone, Chapter 11 (Quidditch)
↑ 3.0 3.1 3.2 Quidditch Through the Ages, Chapter 6 (Changes in Quidditch since the Fourteenth Century)
↑ Harry Potter and the Half-Blood Prince, Chapter 19 (Elf Tails)
↑ Harry Potter and the Philosopher's Stone, Chapter 10 (Hallowe'en)
↑ Harry Potter and the Half-Blood Prince, Chapter 11 (Hermione's Helping Hand)
↑ 14.0 14.1 Harry Potter: Hogwarts Mystery, Year 6, Side Quest "Poor Sport"
↑ 15.0 15.1 Harry Potter: Hogwarts Mystery, Year 4, Quidditch Season 3, Chapter 1 (An Unfriendly Friendly)
↑ Quidditch Through the Ages, Chapter 8 (The Spread of Quidditch Worldwide)
↑ Harry Potter: Hogwarts Mystery, Year 2, Side Quest "Team Gryffindor"

(Gryffindor players only)

↑ Harry Potter and the Order of the Phoenix, Chapter 13 (Detention with Dolores)